The Binance Coin price held steady on Wednesday as the rest of the cryptocurrencies industry rebounded. The BNB price jumped to $425, which was about 15% above the lowest level this week. It has a market capitalization of more than $71.3 billion, making it the fourth-biggest cryptocurrency in the world.
BNB holds steady
Binance Coin is the native token for the Binance Smart Chain, a leading blockchain project that is relatively similar to Ethereum.
The platform allows developers to build quality decentralized applications in various industries like Decentralized Finance (Defi) and non-fungible tokens. Its best-known project is PancakeSwap, which is one of the biggest DeFi platforms in the world.
Other popular projects built using the BSc network are the Binance USD stablecoin, MOBOX, CryptoBay, and CryptoBlades. BNB is the native token for the Binance Smart Chain project.
Its other role is that it is used as a leading means of exchange in Binance marketplace. This is notable since Binance is the biggest exchange in the world. Indeed, it is about 5 times bigger than Coinbase in terms of volume.
The Binance Coin price has struggled recently because of the overall weak performance of the cryptocurrencies industry. It has also fallen as the total value locked in some of the popular DeFi projects built using its protocol has declined.
On-chain data also shows that the number of transactions carried out in the BSc platform declined to the lowest level since July 19th as shown below. So, what next for the BNB prices?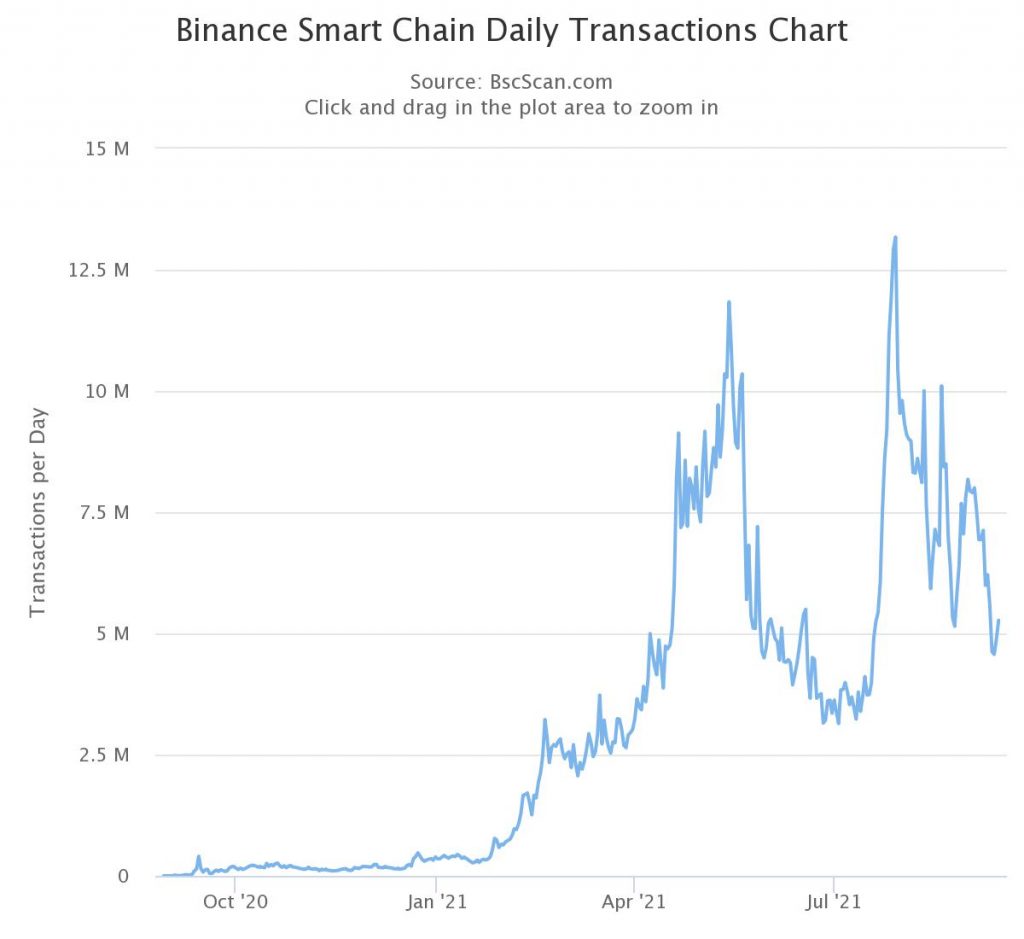 Binance Coin price forecast
The daily chart shows that the BNB price has risen in the past two consecutive days. The coin is trading at $425, which is along the 38.2% Fibonacci retracement level. It is also along the 25-day and 50-day exponential moving averages (EMA). The price is also slightly below the neckline of the double-top pattern at $451. It is also forming a bearish flag pattern.
Therefore, the Binance Coin price will likely resume the downward trend as bears target the key resistance at $300, which is slightly above the 23.6% retracement level. This means that the current gain could be a dead cat bounce.