Bitcoin Cash surged this year into May but has since pulled back with the general market. The coin has found support this week with market bounce and a near 100% gain is possible.
BCH still dependent on BTC
The cryptocurrency market still sticks to old norms with the price of Bitcoin Cash moving in unison with BTC. Investors still see Bitcoin as the number one currency with BCH at number 12.
BCH would need to see some game-changing news or developments that could catapult it higher and see it treated as a currency in its own right. The problem for BCH would be the same as the original in that governments are circling the market and looking to defend their monetary control ahead of central bank currency releases. China's recent crackdown has been an example of this and a third-party currency is unlikely to be approved by policymakers.
Options drive BTC price once again
Options representing around 69,000 bitcoin are set to expire with a notional value of $2.37 billion on Friday.
"Max pain levels are good to keep an eye on going into an options expiration like this," wrote the CEO of Genesis Volatility, in an email to CoinDesk. This could see a BTC rally up to $40,000, which is also the strike price with the most open interest. That would be another boost for the market and would add to the short-term recovery in BCH.
BCH Price Technical Analysis
The price of Bitcoin Cash surged to $1,600 in May and has since corrected to the $487 level. The bounce at $385 is a good support level and declining resistance could see a breakout here. A move towards the 50-day moving average at $800 is the first target. Above there would see the coin move back into the $1,000 price levels. The $385 level is crucial support on the downside.
BCHUSD Daily Chart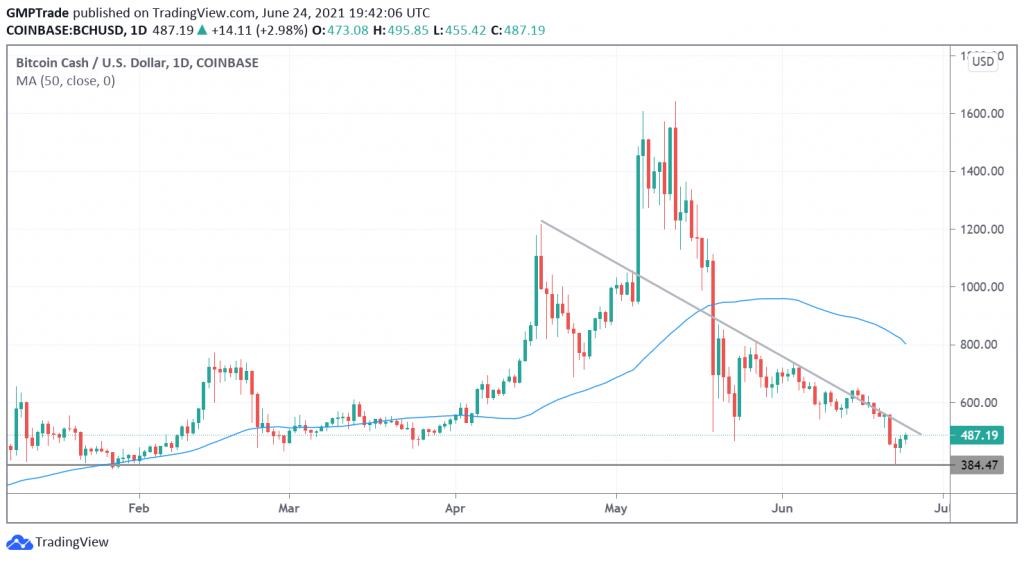 New Mega Milestone for Bitcoin
Bitcoin Cash came into existence as a result of a hard fork from Bitcoin in late 2017. The goal was to improve the scalability of BTC and BCH aims to be cheaper and faster with the cost to transact BCH on the network being less than a penny. BCH could have more potential than BTC to see mass payment adoption.