Bitcoin prices continue to trade sideways, and the charts suggest that BTCUSD will keep on doing this for a few more weeks. Learn when the Bitcoin prices might breakout, and why, and how high or low the price could trade.
BTC is Trapped in a Descending Triangle
Bitcoin prices found support at the June 8 low of $30949, which was also the same level from which the price bounced on May 23. Also, the May low was a tad lower at $30078. The three lows are close to each other and send a clear signal that this level is important.
BTCUSD is also driven lower by a downward sloping trend line. It goes via the May 26, June 3, and June 10 highs. The combination of the horizontal support level at $30949 and the downward-pointing trend line forms a descending triangle.
When will a breakout occur?
The two lines meet on July 26; thus, a breakout should happen on or before that day. Yet typically, a break to either line will happen well before the two lines meet. Some say, when 70% of the time has passed, that will make July 5 the breakout date.
However, my personal experience suggests that we might have a triggering of the pattern in about ten days on June 22.
What could happen with Bitcoin prices on a breakout of the chart pattern?
The descending triangle is bearish in nature, and if we take the difference between the BTCUSD high of June 3 and the horizontal trend line at $30949, and subtract the difference from $30949, then the Bitcoin price prediction is for a slide to $22398. If this were to happen, Bitcoin prices would be back at their end of December 2020 levels, and the complete 122% return of 2021 would have been lost.
Bitcoin Price Prediction on Bullish Breakout
Yet, one edge for bullish traders is that the pattern is forming just above the January 22 low of $28754. Also, the BTCUSD is trading at a heavy discount of about 44% at pixel time. The importance of the January 22 low increases the likelihood of the descending triangle pattern breaking to the upside. If the price would break the trend line today, when its current level is approximately $38000, then the Bitcoin price prediction is to reach $46458.
BTCUSD Daily Chart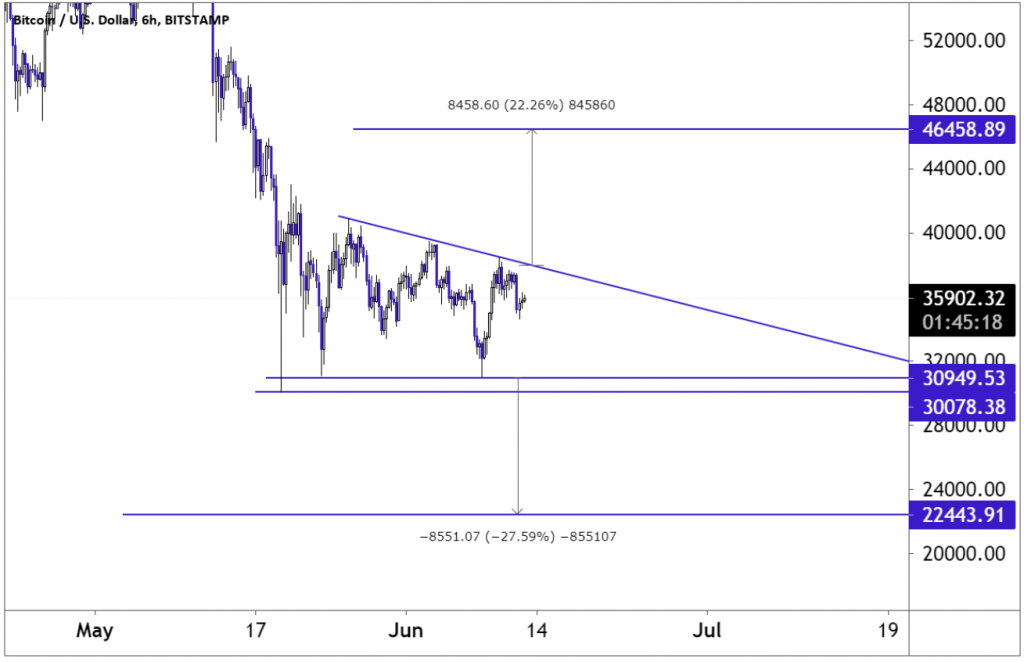 New Mega Milestone for Bitcoin
Also supporting the bullish bias is El Salvador introducing Bitcoin as a legal tender in the country. Its citizens will shortly be able to pay taxes in Bitcoin. But the primary aim is to get billions of USD repatriated cheaper by the many Salvadorans working outside of the country, each month sending money to their relatives. Now, whilst this might have a small impact on the global flow of cryptocurrencies, it opens up the door for more states and companies to loosen up to the idea of cryptocurrencies. Hence the move by El Salvador strongly furthers the proliferation of cryptocurrencies.