Bitcoin has finally found technical support from the $30,000 level and the coin trades above $40,000 for the first time in June. The coin has been supported by yet another MicroStrategy purchase, while hedge fund billionaire Paul Tudor Jones reaffirmed his support for the coin.
MicroStrategy Purchases Another $500 Million BTC
Bitcoin is trading above the $40k level for the first time this month after business intelligence firm MicroStrategy announced a further $500 million purchase of the coin. In an announcement revealed on Monday, the company said it had completed another $500 million debt raise, which it will use to buy more Bitcoin. The company now owns around 92,000 bitcoins after announcing a similar purchase last week.
Bitcoin had been technically weak after the price crash from $64,000 to $30,000 and was in need of technical support to start another leg higher. The price is now trading at $40,700 on Monday which is important resistance.
Hedge Fund Guru Wants 5% in BTC
Further news for Bitcoin came from hedge fund billionaire, Paul Tudor Jones, who said that he wanted 5% of his investment portfolio in the coin. Tudor Jones made his name when he called the 1987 stock market crash and he went on to a successful career for 30 years.
Tudor Jones said buying bitcoin would protect his portfolio from the growing inflationary threat after the Fed pumped heavy stimulus into the market, alongside the government largesse. Tudor Jones had already allocated around 1% to 3% of his portfolio in bitcoin last year, but he likes it even more now.
During an interview with CNBC, the investor said:
"I like bitcoin. Bitcoin is math, and math has been around for thousands of years. 2+2 is going to equal 4, and it will for the next two thousand years. So, I like the idea of investing in something that's reliable, consistent, honest, and 100% certain."
BTC Price Analysis
The current level is important and opens up a path to the 50-day moving average at $44,000. From there, Bitcoin can start to grind higher towards the $50k and $60k levels.  
BTCUSD Daily Chart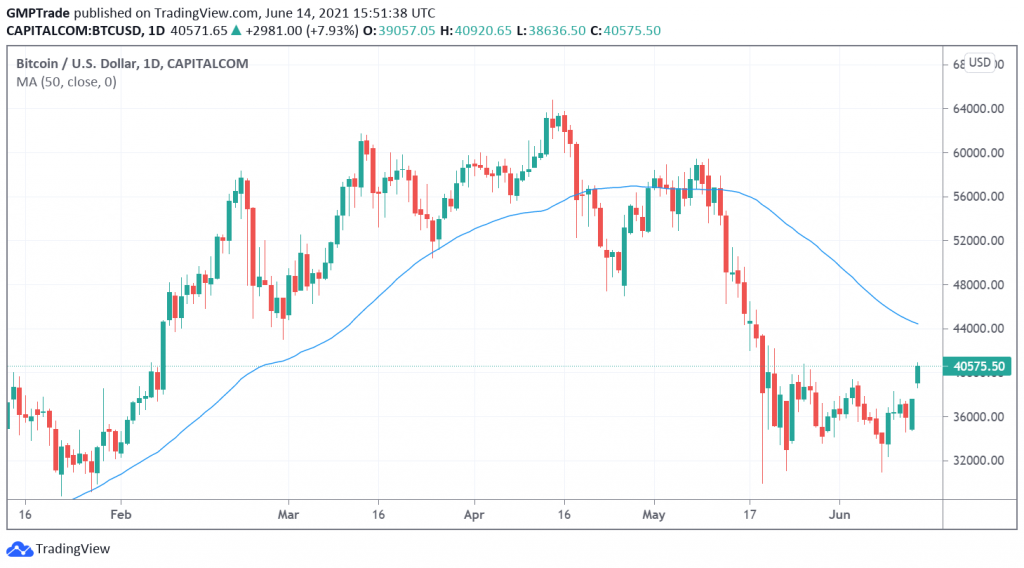 Tesla Adds Another Bitcoin Boost
Elon Musk boosted the price of Bitcoin again after he said that the electric vehicle maker would accept the coin for payment if there was proof of clean energy use in BTC. The company purchased $1.5bn BTC for its balance sheet and said that it would accept crypto as payment for its cars. That news was reversed over Bitcoin's energy usage in mining and the price of BTC sold off.