Cardano is holding up as the major coins see lower prices on Friday. The majority of coins in the top ten are showing losses of 10-15% but Cardano's loss is 8% for the week.
Bitcoin is 'own worst enemy'
IOHK CEO and Cardano founder Charles Hoskinson has said that Bitcoin has a competitive disadvantage due to its slow speeds and will be usurped by proof-of-stake networks. 
In a five-hour podcast with researcher Lex Fridman the Hoskinson argued that proof-of-stake networks offer superior speed and functionality, stating:
"The problem with Bitcoin is that it is so slow — it's like the mainframe programming of the past. The only reason it's still around is because there is so much invested in keeping it around."
"You have to upgrade the damn thing!" Hoskinson said, regarding Bitcoin's underlying proof-of-work mechanism, and said that Bitcoin's utility lags behind its competitors.
"It [Bitcoin] is its own worst enemy. It has the network effects, it has the brand name, it has the regulatory approval. But, there's no way to change the system, even correcting obvious downsides in that system."
Hoskinson visits El Salvador
Charles Hoskinson is also interested in bringing Cardano (ADA) to El Salvador after the country moved to make BTC legal tender.
"Yes, we have been in talks with some officials and parties in El Salvador and I may do a state visit. I sent over all the documentation and requests for that and if so we'll meet the president but it's basically going to be in their hands.
Cardano Price Technical Analysis
ADA is seeing its price holding up on the support at $1.00 and that could be a base for a return to the highs near $2.50. This is the fourth test of the level and a weekly close in this fashion would be bullish for Cardano. The coin is seeing renewed support as the ongoing upgrades bring new advantages such as smart coins to the network. If a further fall was seen then ADA could move towards the 50 moving average around the $0.75 price level.
ADAUSD Weekly Chart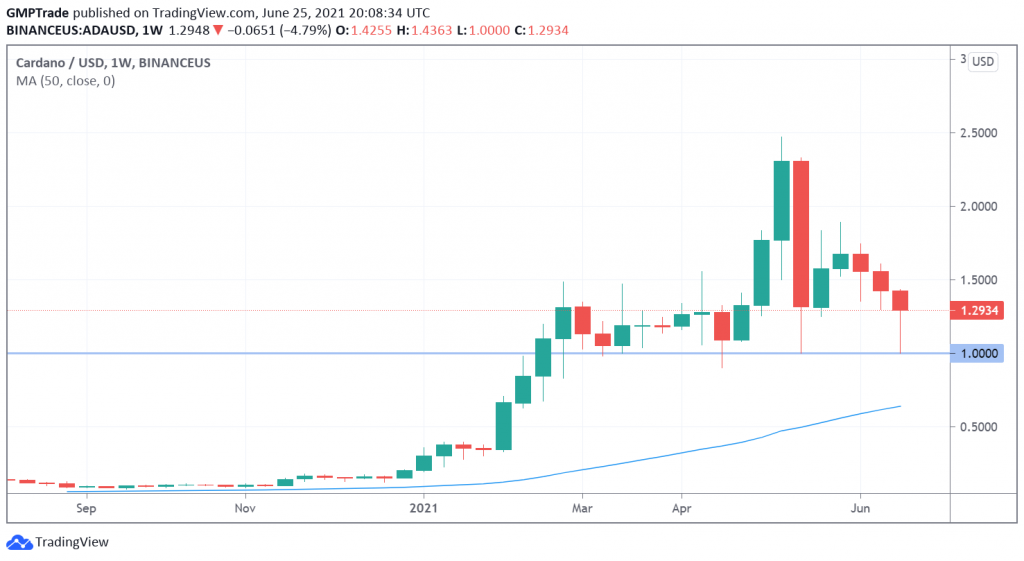 Cardano and DOGE hookup?
Cardano's founder also said in the conversation with Lex Fridman that, "Dogecoin is a reasonable target for someone to fix it up and make it an interesting cryptocurrency."
Hoskinson said he hoped that a "compromise can be made where real developers come in and they start working on DOGE to create some use and utility for it so at least it has a value floor and won't collapse."
He then added that a Dogecoin and Cardano developer partnership was possible, saying "it would be a lot of fun."