The Cardano price has been moving lower with Bitcoin and is at risk of further losses after breaking lower through technical support.
Tesla Should Accept Cardano
Cardano founder Charles Hoskinson believes that ADA is superior to BTC, and that carmaker Tesla should accept it as a payment method instead of BTC.
Hoskinson said that the project's native cryptocurrency ADA is one of the greenest digital assets on the market. He added that Tesla should go for it if it really cares about environmental sustainability.
"If they truly care about alternative energy, sustainability, carbon reduction, and carbon neutrality, you can't be in a system where there is no built-in mechanism to constrain the energy consumption," Hoskinson said.
As an alternative energy company, Hoskinson said that Tesla should support the greenest cryptocurrencies, such as ADA, and not the high energy-consuming Bitcoin. He also noted that BTC lacks other technical qualities compared to Cardano.
"Bitcoin is the least programable of all the cryptocurrencies and if you want to do interesting, sexy, and unique things there is just no real way to do that," the ADA founder said.
Trader Bullish on ADA
The crypto analyst, known in the industry as Capo, has said that he is very bullish on ADA in a tweet to his 134,000 Twitter followers.
"I'm so bullish on ADA that it hurts," the Tweet said.
The trader went onto share that ADA is one of his biggest crypto holdings, and considers it to be superior to Bitcoin and Ethereum.
"ETH looks better than BTC though. And ADA looks better than ETH…
Cardano Technical Analysis
The price of Cardano needs to find support if it wants to please bullish investors with the coin breaking lower from a symmetrical triangle formation and then hitting resistance at the $1.60 price level. There is support moving lower at $1.20 and $1.40 for ADA and traders will need to wait for a buying signal before moving in.
ADAUSD Daily Chart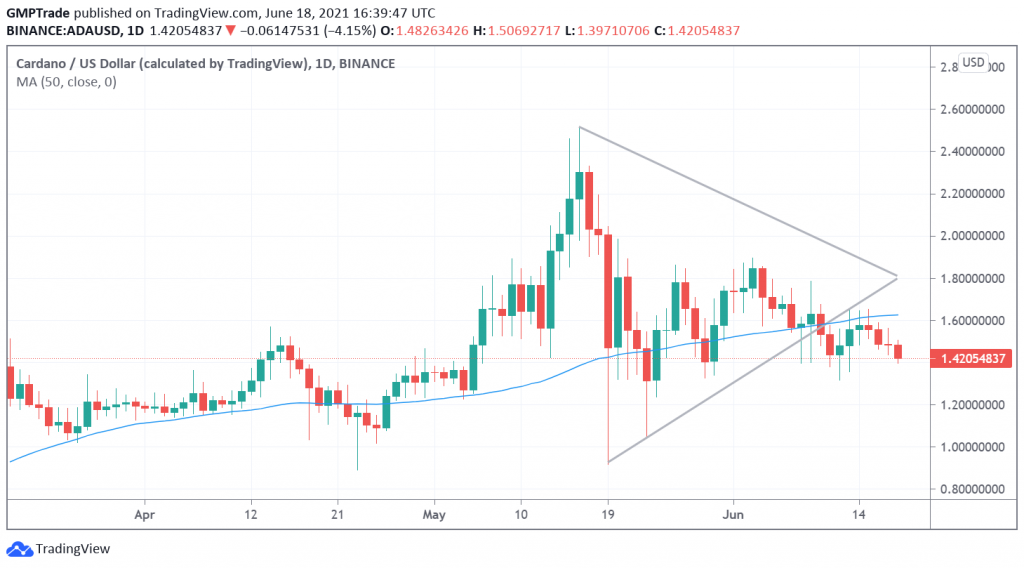 Alonzo contracts in testing
This week saw the first-ever Plutus smart contract go live on testnet and this is part of the ongoing upgrades in Cardano. Back in March, the network underwent the Mary hard fork, which brought native multi-asset support to the Cardano ecosystem. Since then, Cardano has been on the road to its next hard fork – Alonzo – and this will finally help developers build smart contracts on Cardano.