The price of DOGECOIN is under pressure and is at risk of further losses based on the technical setup and lack of a bullish catalyst.
Co-Founder Weighs in On DOGE Ecosystem
Dogecoin co-founder Billy Markus has talked about the future of the coin and said that future success will depend on contributions from Dogecoin holders, including "making memes" and "contributing to good causes."
Markus said on Twitter that Dogecoin will flop if people are "finger-pointing" at the cryptocurrency, rather than contributing to its success. Many investors look to DOGE as a "meme coin" and a joke, but they have missed out on the cryptocurrency's surge in 2021.
BTC Will Drive Near-Term Again
Dogecoin is lacking a bullish catalyst as celebrity endorsements have dried up and the general crypto market will follow the path of Bitcoin in the short-term. BTC found support at the $30k level and has bounced to trade at $40,000 but the coin needs to remain elevated here or the market will be dragged lower.
The price of BTC was supported by the news that MicroStrategy was set to purchase another $500 million of the coin and also the news that Tesla could support the coin for vehicle payments if the source of the funds were energy-efficient.
DOGECOIN Technical Analysis
The meteoric rise in DOGECOIN was halted at $0.7000 in early May and the coin has plummeted to lows of $0.25000 before a bounce. The last two weeks have seen limited support for the coin and the price is drifting towards a key uptrend line. There is a risk of further losses in the coin if the level breaks and the coin could test the lows near $0.2000 once again. Finding buyers here would see the price of DOGE move towards the 50-day moving average at $0.4000.
DOGE Daily Chart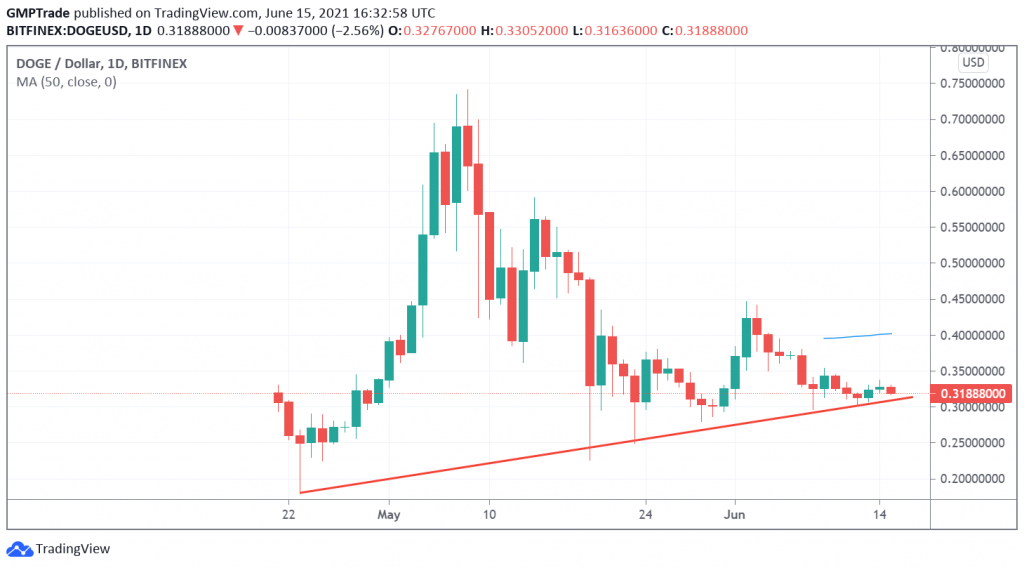 Mark Cuban Urges Caution on Purchases of DOGE
Dallas Mavericks owner Mark Cuban has urged caution with regards to Dogecoin investments. Cuban said:
"It's easy to get lost in the hype of Dogecoin, GameStop or AMC, and I'm not saying don't invest in those companies because they can be good investments, but you've got to know why you're investing".
Many new investors are caught up in the "get rich quick" hype on Tik Tok or Instagram and are at risk of being sucked into coins at high levels, where BTC could still drag the market lower.