Dogecoin disappointed its retail fans with one of the worst performances in the crypto market this week with losses of -36%.
BTC China Crackdown hurts DOGE
The cryptocurrency market has a bearish tone on Monday after a further crackdown by China on Bitcoin miners.
China has said that banks must not provide products or services such as trading, clearing and settlement for crypto transactions and that is hurting the price of coins across the board. Most of China's BTC mining operations have also been shuttered as the country clears the way for its own digital currency.
Hoskinson has hopes for developers
Cardano founder Charles Hoskinson has said that he hopes Elon Musk's appeal for ideas to upgrade dogecoin will help bring real-world value to the coin.
"Dogecoin is a reasonable target for someone to fix it up and make it an interesting cryptocurrency," he told a podcast.
After Musk asked for developers to submit ideas for upgrades to the meme token last month, Hoskinson described some of the obstacles that they could face in a video. 
"My hope is that a compromise can be made where real developers come in, and they start working on doge to create some use and utility for it, so at least it has a value floor and won't collapse," Hoskinson said.
He also said that it could take two to three years for dogecoin to be able to function as a modern currency.
Dogecoin Price Technical Analysis
Dogecoin price soared to $0.70 in May as it looked like th ecoin was on a one way trip to the $1.00 level. The price then slumped to $0.30 and that is now the key support to save the uptrend. The coin could move lower towards the previous resistance at$0.08 if buyers don't emerge in the coin. Traders will need to see a base in the coin and a stronger buy signal but the coin could perform well later depending on the developer submissions.
DOGEUSD Daily Chart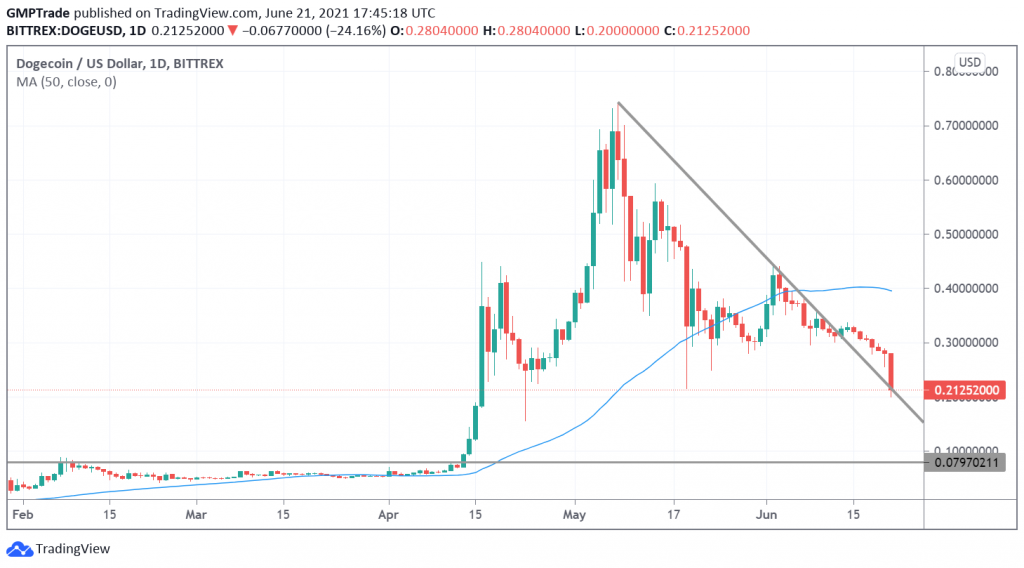 DOGE whale sees big losses
The mysterious dogecoin whale that owns more than 28% of the coin's supply has seen its holdings value decline by 67% from the peak. Dogecoin address DH5yaieqoZN36fDVciNyRueRGvGLR3mr7L owns almost 37 billion dogecoins, which were worth more than $24 billion in early May. But the recent crypto pullback has seen steep losses for the holder.