The price of Ethereum Classic was higher by over 20% this week after the Digital Currency Group announced a $50m purchase via Grayscale.
DCG adds ETC to their portfolio
Ethereum Classic was the best-performing coin in the top 20 after it was announced that DCG would buy $50 million worth of ETCG through its subsidiary, Grayscale.
"DCG plans to use cash on hand to fund the purchases and will make the purchases on the open market, at management's discretion," said the company in a statement.
Grayscale is best known for its Grayscale Bitcoin Trust which is an ETF-style product that owns a massive amount of Bitcoin. The Bitcoin Trust and other similar products provide a way for investors, including large funds that are ineligible to buy crypto, to get exposure to digital currencies.
Will the company buy more?
The decision by DCG to invest in Ethereum Classic trust comes after the company said in May that it would spend $750 million buying shares of the Grayscale Bitcoin Trust.
That purchase has been seen as a move by DCG to prop up the price of the Grayscale Bitcoin Trust, which has fallen amid regulatory issues as many expect the SEC to approve a BTC ETF. Despite this, the group are still purchasing ETC and showing faith in the project so there is a possibility of a further purchase and this investment also draws further attention to ETC.
Ethereum Classic Price Analysis
Ethereum Classic's gains for the week found resistance at the $60 level where the 50-day moving average resides. This will be the first obstacle for the coin to start on another path upwards. The price of ETC previously soared in May from under $40 to hit all-time highs above $180. Resistance above the current levels would target the $80 price.
ETC Daily Chart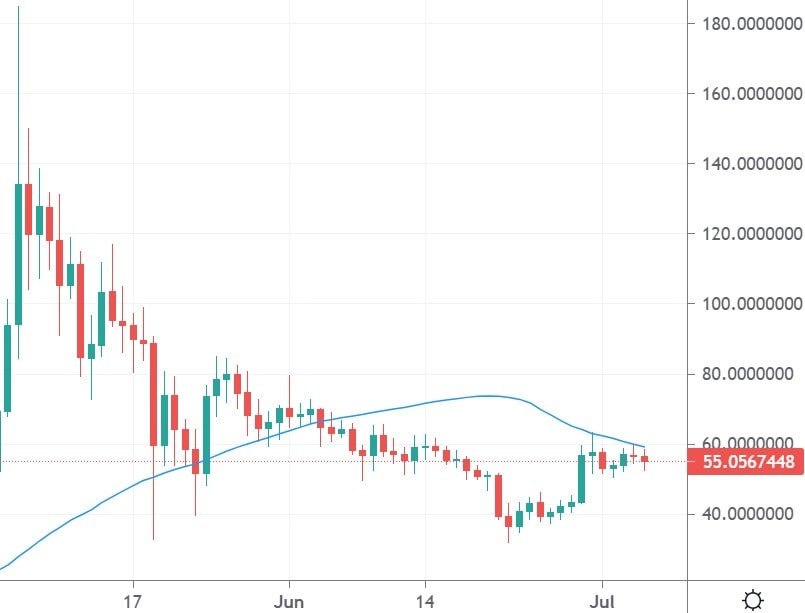 Ethereum Classic Stats
Ethereum Classic started life as a hard fork from the Ethereum blockchain and suffered back in 2019 when it was hit by a 51% hack. Since then the project has worked hard on security features and is also working to track the latest Ethereum upgrades as it moves to ETH V2.0. The ETC coin has a market cap of $6.3bn and is ranked at number 19 in the list of coins.
The Ethereum Classic development team is undergoing work to prepare for the Magneto network upgrade. Magneto will include features from the Ethereum Berlin upgrade.