The Ethereum price tumbled on Monday, continuing the sell-off that started on 3rd September when it rose to $4,037. The ETH crypto is trading at $3,235, which is about 20% below the highest level this month. This decline brings its total market capitalization to more than $382 billion.
Why is ETH slumping?
There are several reasons why Ethereum price is tumbling today. First, it is dropping as part of the overall sell-off in cryptocurrency prices. For example, Bitcoin, the biggest cryptocurrency in the world, has seen its price drop from this month's high of $52,000 to about $44,680.
Similarly, the total market capitalization of all cryptocurrencies tracked by CoinMarketCap has dropped from more than $2.3 trillion to more than $2 trillion. Therefore, this drop is further evidence of the overall correlation that exists among cryptocurrencies.
Second, Ethereum price has slumped because of the overall profit-taking after it staged a major rally in August. As you recall, ETH prices jumped from $1,700 in the final week of the month to more than $4,000 in early September. Therefore, this decline is mostly because of profit-taking as the rally takes a breather.
Third, the performance of the DeFi industry has also had a negative impact on ETH prices. The total value locked in the DeFi industry declined from more than $90 billion last week to more than $84 billion today.
Meanwhile, as shown below, on-chain data shows that the number of active addresses has been under pressure in the past few days. Indeed, the number has been on a downward trend since the final week of July.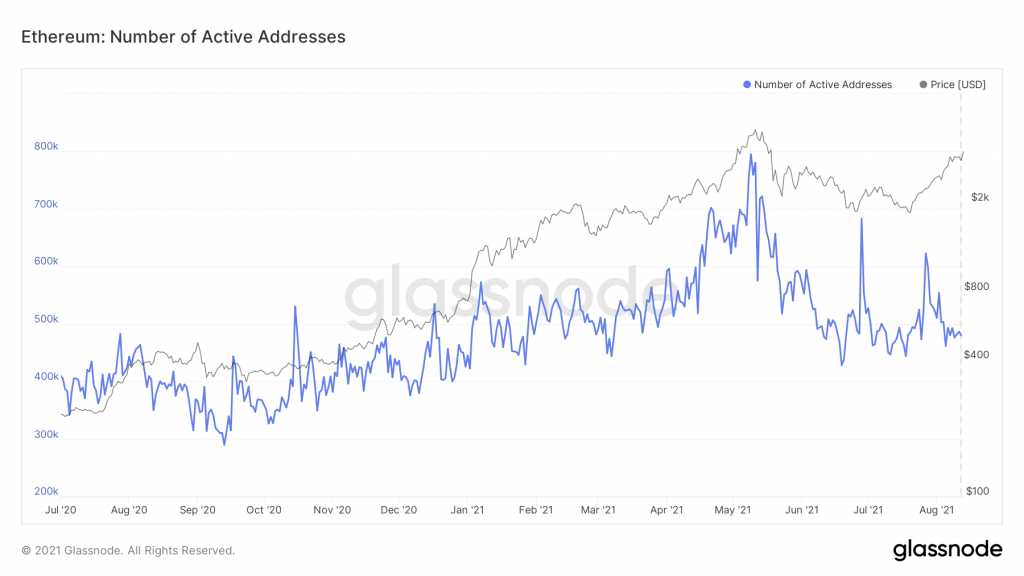 Ethereum price prediction
The four-hour chart shows that the Ethereum price declined sharply last week. At the time, it dropped and found some support at $3,013. It then bounced back and reached a high of $3,580 on Friday. Now, it has erased some of last week's gains and is trading at $3,220. It remains below the 25-day and 50-day moving averages and is hovering slightly above the 38.2% retracement level.
Therefore, for now, the path of the least resistance for the pair is to the downside. This view will be confirmed when the price moves below last week's low at $3,013. On the flip side, a move above $3,490 will invalidate the bearish view.