The price of Ethereum has found support below the $2,500 level and could see further gains in the next two weeks.
Crypto market shrugs off Binance warnings
The cryptocurrency market has shrugged off warnings from the Japanese and UK regulators that Binance is not regulated in their respective countries.
Binance received the two notifications over the weekend and will now face an anxious time as regulators move in on the market. The two warnings come on the heels of the Chinese crackdown with institutions banned and crypto mining shut down. China reiterated its crypto mining ban in mid-May and stepped up its efforts this month, with 90% of mining said to be shut down.
Jim Cramer invests in Ethereum
CNBC host Jim Cramer said that he was investing in Ethereum again this week after he told viewers that he had sold all of his Bitcoin but would maybe buy it back lower.
"I went back into ethereum because bitcoin held $30,000," Cramer said on Monday's Squawk Box.
The "Mad Money" host was talking about the $30k price level which held up on the weekly level once again.
Ethereum Technical Analysis
The price of Ethereum saw support at the support line indicated and the price has now rallied above the $2,050 level. The next target for ETH is the 50-day moving at $2,600 and there is potential upside in the coin before we can see if the price gains are part of a bounce or a retest move to the all-time highs. The $2,050 level will provide the first support for Ethereum.
ETHUSD Daily Chart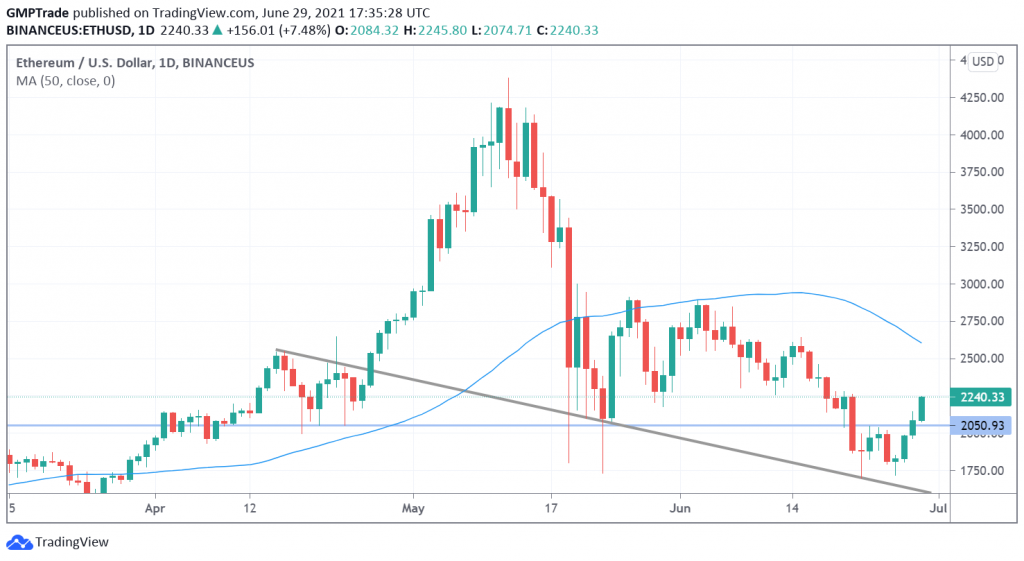 80% of Ethereum investors are in profit
Data from crypto intelligence platform IntoTheBlock shows that on June 29th, around 86% of Ethereum holders are in profit, while the figure is almost half that for Cardano investors with 45%. Despite Ethereum's returns, two market signals indicate that the asset is still on a bearish footing.