The price of Ethereum is moving lower and is struggling for strong buy interest, despite the news that Goldman Sachs was offering ETH trading.
Investment Bank Moves to Support ETH
US investment bank Goldman Sachs has seen healthy interest in its new futures and options trading in ETH. Only a year after saying cryptocurrencies were a non-asset class, the US banking giant has now opened up Bitcoin and Ethereum to its clients.
A month ago, a leaked report from Goldman Sachs on Ethereum said that there was a "high chance" that the coin could eventually eclipse Bitcoin. The bank's analysts said:
"The Ethereum ecosystem supports smart contracts and provides a way to create new applications on its platform. Most decentralized finance (DeFi) applications are being built on the Ethereum network, and most non-fungible tokens (NFTs) issued are purchased using ether. The greater number of transactions in ether versus bitcoin reflects this dominance."
The latest news will see Goldman offering trading in futures and options for BTC and ETH and they have said that investor appetite is strong after the recent price drop:
"We've actually seen a lot of interest from clients who are eager to trade as they find these levels as a slightly more palatable entry point. We see it as a cleansing exercise to reduce some of the leverage and the excess in the system, especially from a retail perspective."
Ethereum Technical Analysis
The price of Ethereum has consolidated since the price dump in May and the coin is struggling for suppirt. Today's price action has the potential to see the coin move back towards the lows at $1,700 in the coin and that woul be an importatnt level in the coin. Resistance comes in ahead of the 50-day moving average at $3,000.
ETHUSD Daily Chart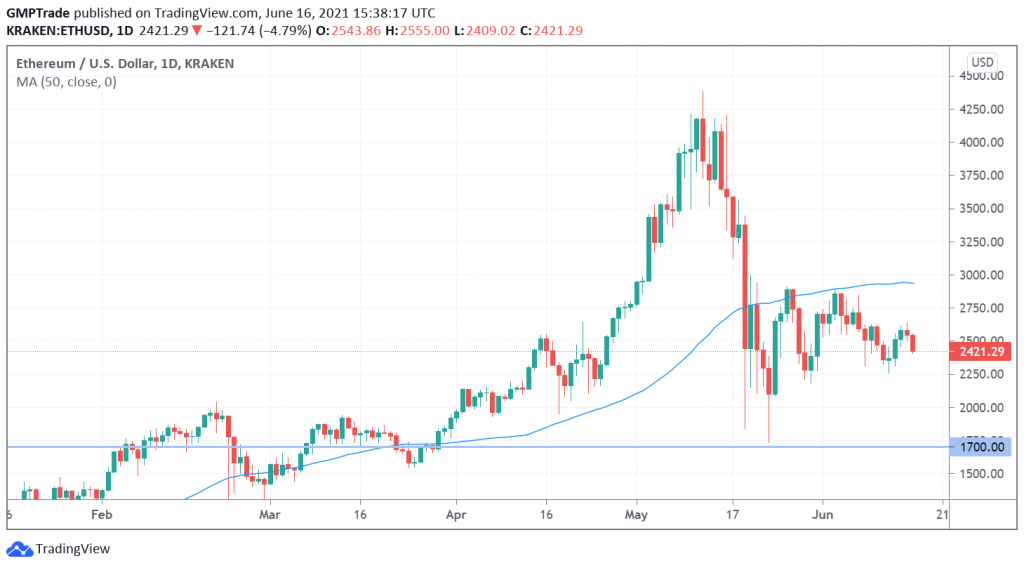 Banks Near Ethereum Staking
Digital asset bank Sygnum is now offering Ethereum 2.0 staking, according to CoinDesk. 
The Swiss bank allowed its asset management, hedge fund and family office clients to stake on the Tezos blockchain recently and this is a trend that could increase in the future. The move of banks such as Goldman Sachs is a major seal of approval for Ethereum.