Litecoin price has recovered with the overall cryptocurrency market last week to set a base for a potential rally higher this week. The coin is currently going through an important development phase with the Mimbwimble update and founder Charlie Lee is committed to seeing the coin thrive in the future.
LTCUSD soared to new highs at $400 this year, but the price was slammed to $120 in the crypto correction. The coin is now consolidating at the $170 level and this is an important crossroads for the coin.
What is Mimblewimble?
The MimbleWimble privacy protocol or MimbleWimble Extension Block (MWEB) is an update designed to add privacy and scalability to LTC.
MWEB will run parallel to the Litecoin network, which means that it will not have an impact on the current transaction speeds. MWEB will make transactions traceable and transparent, but confidential and this marks a critical milestone for a major cryptocurrency. Blockchain developers have been unable to match confidentiality of transactions with privacy in the past.
Founder Charlie Lee said:
What I'm working on is getting a technology called MimbleWimble onto Litecoin as extension blocks. The project's called MWEB, which stands for MimbleWimble Extension Blocks. That would add more privacy and more fungibility to Litecoin, and I think that's gonna help it become a better form of money.
LTCUSD Daily Chart Analysis
LTCUSD has important resistance at the $200 level and this will be the obstacle for further gains and the 50-day moving average currently rests at $240. If the cryptocurrency market can recover then LTC can start moving up the levels once again, but the recent price crash caused some technical damage that would take some time to recover.
LTCUSD Daily Chart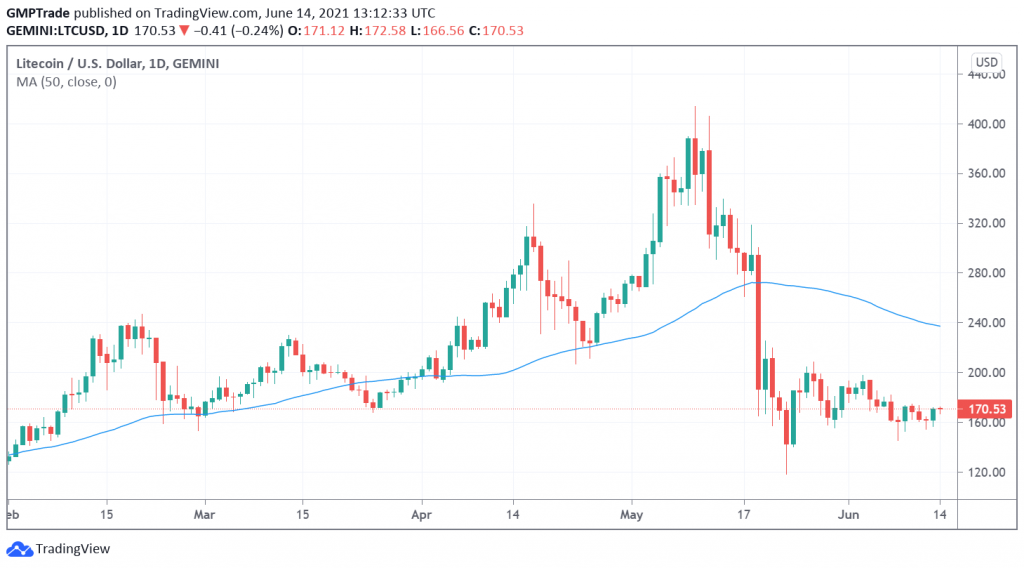 US dollar weakness could boost cryptocurrencies
Larger trends in the financial markets are supportive of the cryptocurrency market with the G7 meeting at the weekend seeing the major economies commit to the current path of large stimulus spending. That could put the currencies of the largest economies under pressure as inflation rises and cryptos could be seen as a safe haven or means of diversification.