The Litecoin price jumped on Monday as the overall mood of cryptocurrencies improved. The LTC token jumped to $230, which was the highest level since May 14. This price was also about 120% above the lowest level since July 20th.
LTC follows BTC
In an interview early this year, Litecoin's founder, Charlie Lee made the case that Litecoin was the closest rival to Bitcoin. Besides, the two cryptocurrencies use the same technology, with the main difference being that Litecoin is not as clogged as Bitcoin. 
Also, its transaction costs are relatively lower than that of Bitcoin. Also, he explained that the two coins have a close correlation with each other.
This correlation has been seen clearly in the past few months. For one, the Litecoin price jumped to an all-time high of $412 in May this year. It then declined and found a major support at $104. In the same period, Bitcoin soared to an all-time high of $65,000 and then pulled back to slightly below $30,000.
Today, Bitcoin price soared to above $51,000, meaning that it has risen by more than $20,000 since mid-July. On the other hand, the Litecoin price has jumped by more than 122% from its lowest level since July. Therefore, to a large extent, investing in Litecoin is a better and indirect method of investing in Bitcoin. Besides, one Bitcoin can buy 221 Litecoins.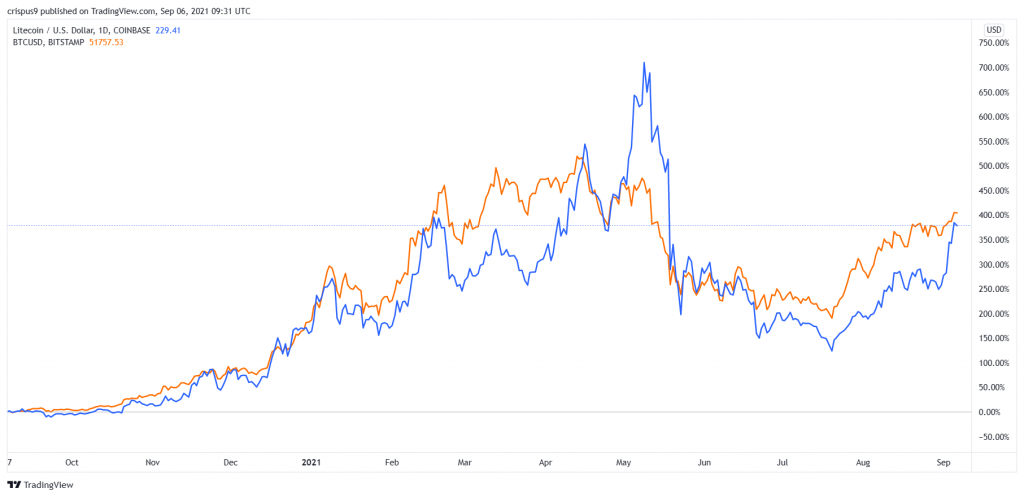 The BTC and LTC prices are rising because of the relatively weak US non-farm payroll (NFP) numbers that were published on Friday. These numbers mean that the Fed will likely embrace a wait and see approach before tightening.
Litecoin price prediction
The daily chart shows that the LTC price has been in a strong bullish trend in the past few weeks. Along the way, the coin formed an inverted head and shoulders pattern, which is usually a bullish signal. It also formed a bullish flag pattern that is shown in black.
The bullish trend is being supported by the Ichimoku cloud. It is also above the 25-day and 50-day moving averages (MA).
Therefore, the coin will likely keep rising as bulls target the key resistance level at $300, which is about 30% above the current level. On the flip side, a move below the key support at $200 will invalidate this view.