The price of Stellar Lumens soared higher in 2021 and has corrected with the recent crypto slump. XLM trades at a key fibonnacci level now and is in need of buyers to save the uptrend.
Stellar Slumps After All-Time High
The price of Stellar Lumens raced to an all-time high in 2021, with the coin since pulling back over the last month. After the surge in Bitcoin interest, value investors looked outwards to altcoins and saw Stellar as a good pick.
XLM hit an all-time high near the $0.8000 level after starting the year near the $0.1000 level.
Stellar Trades on German Bourse
Börse Stuttgart, which is the second-largest German stock market, recently launched Cardano and Stellar exchange-traded notes (ETNs). The listing takes the number of ETNs on the platform to 22. The price of each asset is tied to the euro currency.
Investors will benefit from extended trading hours with the crypto ETNs running from 8:00 to 22:00 hours. Börse Stuttgart's Director of Trading Jürgen Dietrich said the crypto market's growth played a part in the listing:
'Interest in cryptocurrencies continues to grow, and market momentum remains strong. With the ETNs, investors can now participate in the price development of the two cryptocurrencies Cardano and Stellar through exchange-traded securities,' said Dietrich.
Börse Stuttgart started listing the first ETN in November 2017 and volumes could expand with growing crypto interest.
Stellar Lumens Technical Analysis
The price of Stellar Lumens soared in 2021 after breaking out of a year-long channel. The coin saw a high near $0.8000 in May and has slumped with the general market. Support is coming in for XLM at the 50 moving average just below the current price. This is a very important level because it also aligns with the 61.8% Fibonacci level. The coin needs to find support around here to avoid further technical damage.
XLMUSD Weekly Chart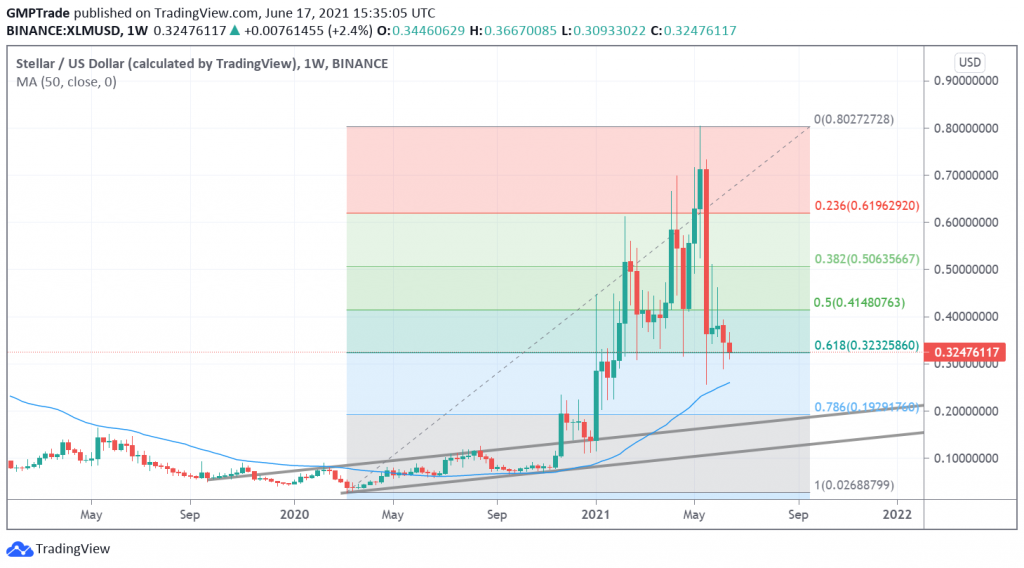 Stellar Lumens Gambling on 1xBit
Gambling site 1xBit has integrated the Lumens coin into their website for users to gamble and play casino games with.
In total, the website now accepts over 25 different assets, including Bitcoin, Ethereum, Dash, and Litecoin. Users can switch between different coins at any given time. The inclusion in ETNs and gambling sites is a boost for XLM as others may see it as a mainstay of the crypto market and list it in other use cases.