The price of Tezos is trying to recover from a slump to the $2.00 level and needs to find a breakout here.
USDC adds Tezos for stablecoin issuance
Tezos has been chosen by Centre, the company supporting the USDC stablecoin founded by Circle and Coinbase, as one of the networks on which it will issue USDC. According to the announcement, the issuance of USDC will be finalized in the coming months and one of the world's top digital dollar stablecoins will function on the eco-friendly and PoS-based Tezos blockchain
Tezos' energy-efficient nature has helped it attract numerous projects, including gaming developers, music labels, comic book creators, and sporting franchises. Tezos is also home to the world's largest non-fungible token (NFT) marketplace called Hic Et Nunc. In addition,
McClaren partnership could boost
The Formula 1 team McLaren Racing has recently announced that it will partner with Tezos to launch a range of non-fungible tokens NFTs celebrating the team's heritage. As part of the deal, the blockchain's logo will also be featured on the team's vehicles and race suits.
According to the announcement, Tezos will be McLaren Racing's Official Technical Partner in a "multi-year partnership" in Formula 1, Indycar, and esports, with a view to creating an NFT platform "with fan experience at its heart". The deal could really boost the adoption of Tezos as the NFT marketplace for the McLaren team could be valuable.
Tezos Price Chart Analysis
The price of Tezos has slumped from the $8.00 highs of May and now trades at $2.83. The price found support near the $2.00 level recently and is trading within a tight range. A breakout could now occur above the $3.00 level, or below $2.00. A move above the $4.00 price level could open up a retest of the previous highs.
XTZUSD Daily Chart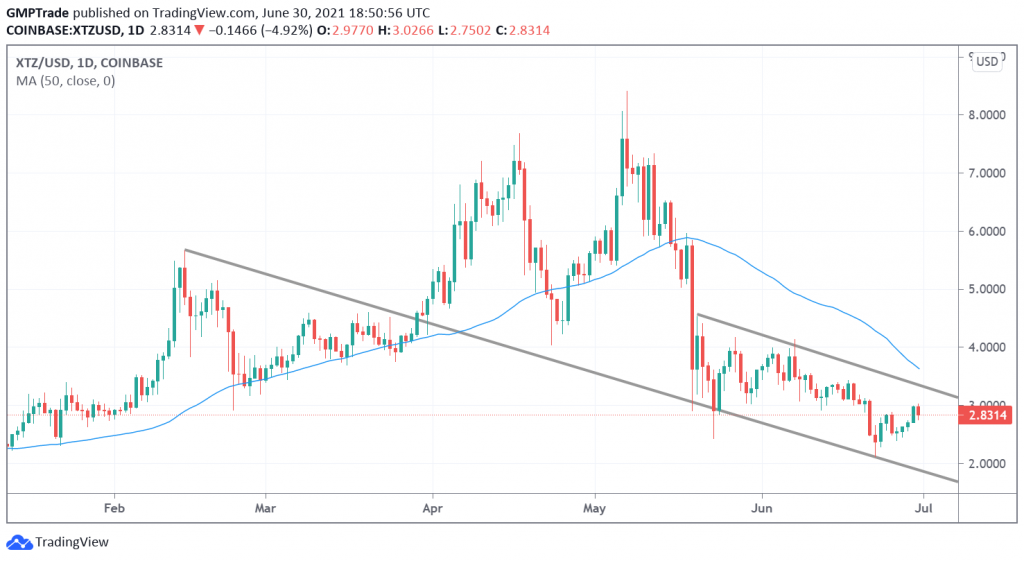 Tezos set for an upgrade
The Tezos blockchain is also set to see a major upgrade soon. Nomadic Labs has proposed the Granada upgrade on the Tezos blockchain. If the upgrade is approved and implemented, the Granada update will change the current Tezos consensus algorithm Emmy+ with a new algorithm Emmy*. The upgrade will also come with other improvements such as liquidity baking and a reduction in Gas consumption.