The price of Stellar Lumens has bounced with the crypto market and the support seen on the weekly level could maintain the uptrend in the XLM price.
Coinbase Japan to Offer Stellar Lumens
A bounce in the cryptocurrency market is lifting altcoins and Stellar Lumens has benefited. The coin currently ranks at number 19 in the list of coins with a market cap of $6.2bn.
A boost for the XLM price was the news that Coinbase was set to enter Japan. The company is registered with the country's financial watchdog, as of June 18th. The crypto exchange will only offer five coins initially and one of those will be Stellar Lumens. That could set the coin up for further volumes in the months ahead.
Lumens builds on user base
XLM is up 135% year-to-date and the number of accounts has also increased by 11% between Q1 2020 and Q1 2021. A rising price, with a growing user base, is a good omen for XLM in the months ahead.
XLM soared in the last year as it improved in areas such as its decentralized exchange and that could be a growth area in the future if the project lists a range of securities.
XLM Price Technical Analysis
The price of Stellar Lumens has bounced near the top of a price channel and the 50 moving average could hold this week. If the price of XLM can remain above this indicator, preferably above the $0.3000 level, then the uptrend can remain in place. Further losses would target the $0.2000 – 0.1500 levels. On the uptrend, XLM would target the previous all-time highs of $0.8000.
XLMUSD Daily Chart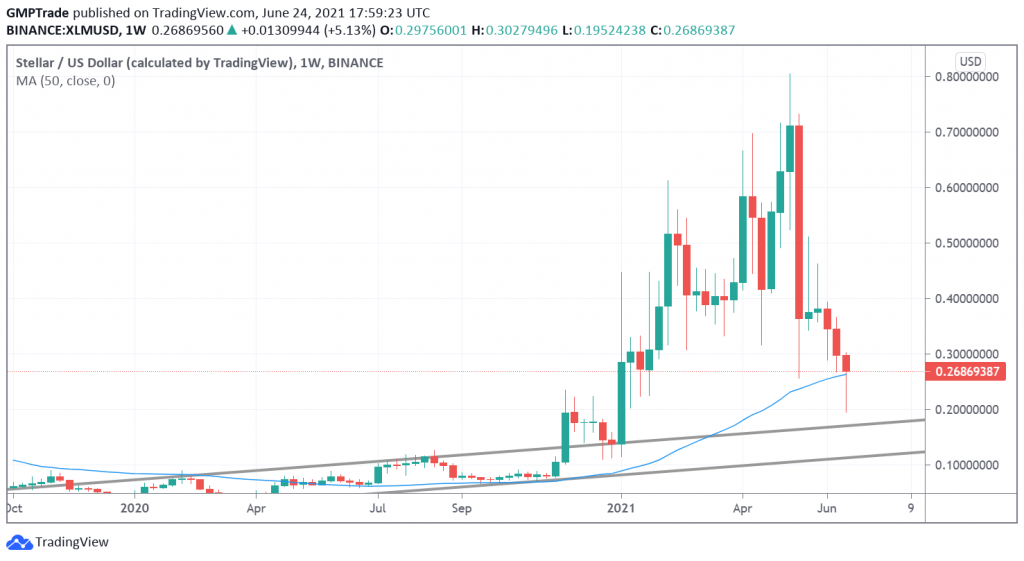 Remittances could be a headwind
Stellar has moved in more recent months to focus on its cross-border payments market as Ripple's XRP has struggled. But the recent comments and actions from China, alongside the move towards Central Bank Digital Currencies in other countries, could be a headwind for XLM. Governments don't want decentralized finance and that will slow the progress that Lumens has made on that front.