The price of XRP has bounced from recent lows after a protracted sell-off but the coin needs to hold that move to salvage the uptrend.
XRP uptrend under pressure
The price of XRP has slipped to the number 6 spot in the list of coins by market cap with a valuation of $29bn currently. The project had seen a valuation above the $80bn level back in May before the cryptocurrency rout occurred.
Ripple's XRP coin was late to Bitcoin's 2021 rally in altcoins but some hopeful comments from the ongoing SEC court case helped to boost the coin to prices near the $2.00 mark.
SEC case drags on
Despite a more positive tone from the SEC case, there appears to be no end in sight for the SEC vs Ripple court battle, with reports now saying that the case has been pushed back for another 60 days and that the dispute could end just before, or in early 2022.
"The Judge grants SEC's motion for 60 more days to conduct discovery. Not unexpected, but this will push the entire case back 60 days. That would mean (quick calculations) Summary Judgment sometime in December/January. Absent a settlement, this case is going to end in early 2022." tweeted an attorney close to the case.
The US regulator had sued Ripple executives over a previous coin sale with the SEC claiming that XRP was a security and the sale amounted to an illegal security sale. The executives refute this claim and say that XRP is a currency.
XRP Price Technical Analysis
The price of XRP has bounced from a dip below the triangle support and the coin needs to hold onto these gains to get back on a bullish footing. The coin could slowly get back to resistance at $1.00 with the triangle resistance at the $1.20 level. Further lows would find support in XRP at the $0.50 level again.
XRPUSD Daily Chart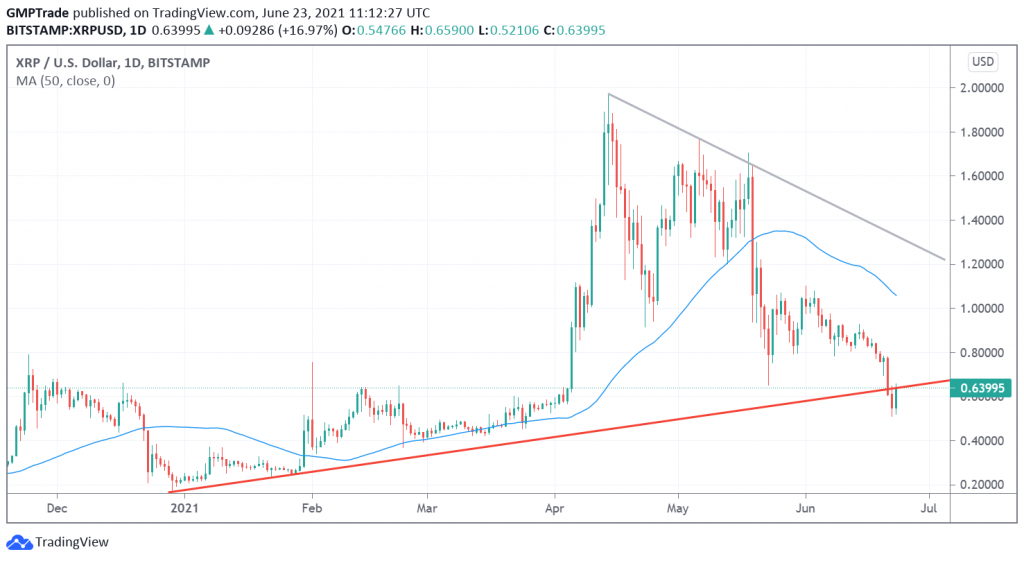 148 million XRP moved on exchanges
The Whale Alert crypto tracking service has posted about large amounts of XRP being moved across the XRPL over the past twenty-four hours. The largest digital exchange in China, Huobi, has seen 50 million XRP moved to Binance, equal to $39,301,009. Whale Alert also pointed to an XRP transfer of 15 million XRP from the US-based Bittrex exchange to UpBit. The data suggests that traders are moving the coin around and that could be for selling or for storage.