XRP is looking for a bullish catalyst after the recent sell-off but the coin is still weighed by the SEC court case and that could see the coin drift lower with the general market.
Court Battle Shows Promise
XRP is currently caught up the Ripple vs. Securities Exchange Commission court battle, where the regulato has accused the crypto project of being an unregistered securities offering. 
The US financial market regulator took Ripple to court last December accusing the project of selling unregistered XRP securities, which raised $1.3 billion, making it the largest ever crypto-related litigation. Since then, the judge presiding over the case has given XRP investors some hope by saying that the coin behaves more like a currency, rather than a security. There were other promising comments that suggest the SEC will lose but large investors are still wary of taking large positions in the coin before there is clarity. 
Investors Could Consider a Bet on the Court Outcome
With more positive sentiment surrounding the court case, XRP is now being weighed by the downturn in the overall market and that be an opportunity for investors to buy in and take a bet that the SEC court case will fail.
If the SEC does succeed in tagging XRP as a security, the project could be a takeover target for a public company looking to adopt a currency.
Follow the Whales
Despite the recent selling, large investors are still accumulating the coin.
Since the XRP price peak on April 7th, "whale" investors holding between 1,000 to 1,000,000 XRP have added to positions with a move from 396,000 to 442,000. This is showing positive support for the coin as it drifts lower.
XRP Technical Analysis
The SEC court case weighed on the price of XRP and the coin was slow to follow the price surge of BTC in 2021. That changed in March as positive news leaked regarding the court battle. The price of XRP saw highs near the $2.00 level and has since been rocked with a slump to the $0.65 level. XRP now trades at $0.87 but the coin is now at risk of falling to test the support near the $0.6000 level. That will be an important level for XRP after the level provided resistance in late-2020 and early-2021.
XRP Daily Chart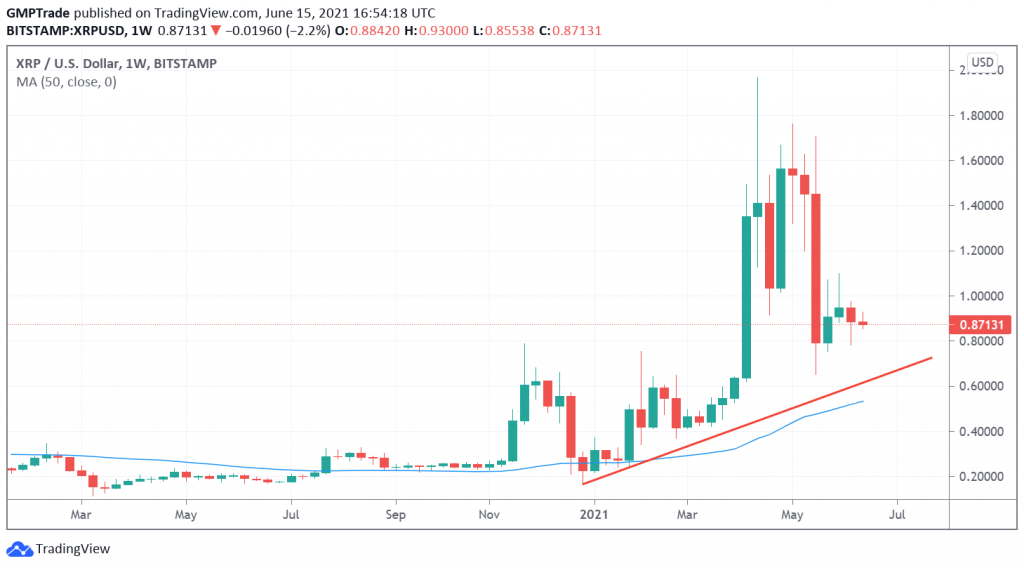 Santiment Gets Bullish
Crypto insights firm Santiment has said it is tracking some key metrics that could see support for the price of XRP.
The group said on Twitter: "With the altcoin downturn continuing, sentiment toward top caps like ETH, XRP, ADA, & DOT have all turned negative. Historically, crowd fear is the time to scoop up more assets."