The AMC Entertainment share price has hit resistance at the $60 level and could see a pullback here.
Volumes decline in AMC
AMC Entertainment shares are drifting lower as volumes dry up in the retail stock.
The June 2nd high saw 766m shares changing hands and that number has steadily declined to 99m yesterday. The stock has also seen the news cycle dry up and the company has secured further financing with a plan to go on the 'offensive'.
Next earnings will be key
AMC investors will have to wait another month for the latest earnings release with the 5th of August pencilled in for the Q2 release.
Losses have improved from -5.44 to -1.42 in the stock and the company could surprise to the upside. The consensus estimate is for the company to report -0.9 per share this time around but the company has seen a reopening of its theatres and will also have cash on hand to boost the balance sheet.
With a new war chest coming from recent share sales the company could announce acquisitions and boost the price in the future.
AMC Price Technical Analysis
AMC Entertainment is seeing resistance at the $60 level and that also lines up with resistance from the symmetrical triangle formation. AMC shares will need to get above the $60 level for further gains. Support will come in first at the $40 level and the $30 level will mark support at the 50-day moving average.
AMC Daily Chart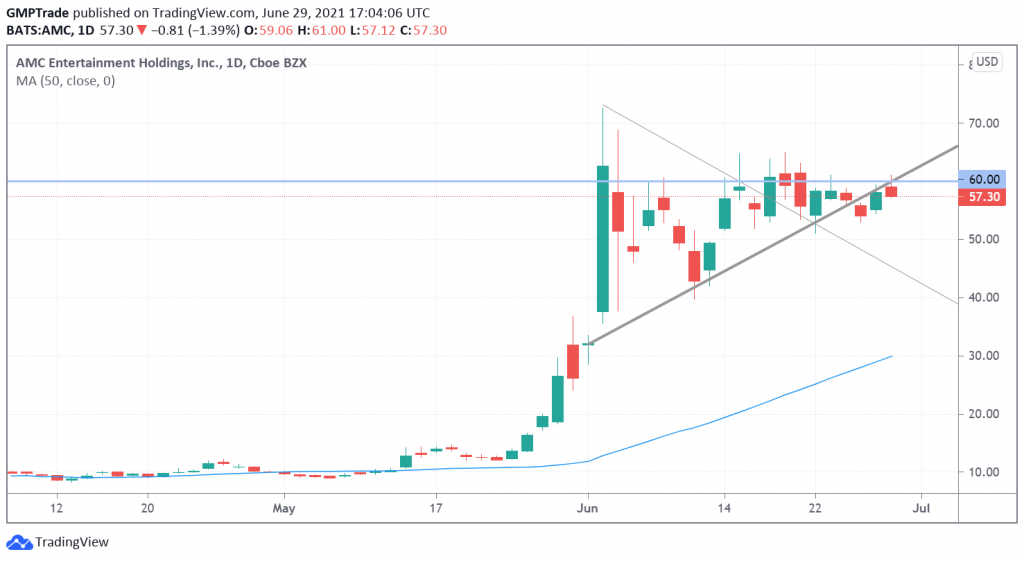 A closer look at AMC
Movie ticket sales in the US dropped by 80% in 2020 as all theaters were shut down and studios delayed filming.
AMC reported a $4.6 billion loss for the year, and Wall Street analysts queued up to short the stock, which only led to a short squeeze as investors piled in.
Streaming services such as Netflix and Disney moved higher as consumers were forced to watch movies and TV from their homes. The price of AMC entertainment has surged with the reopening and could see further gains if management make good decisions with the new capital raised. Before that happens, a pullback may occur in the stock.