The price of AMC Entertainment shares is lower but the stock is still holding a key support level and could advance further.
AMC defies the doubters
Despite a deluge of bearish articles across the financial news space, AMC Entertainment shares are still standing strong above the $50 level. The current market cap of the stock is $30bn and the company has been able to secure its balance sheet with a collection of equity raises at these levels.
The price has cooled for now but the uptrend in the theatre company is still intact and could see further gains.
Company hits a fund-raise ceiling
The company recently raised $587 million in cash by selling stock at an average price of $50.85 per share.
However, management has nearly hit the ceiling for the maximum amount of shares it's allowed to sell to the public. To sell more shares, it needs to get approval from shareholders, which is now made up of 80% individuals who own an average of 120 shares.
The company has been facing a liquidity crisis since losing billions of dollars during coronavirus shutdowns and the company has pledged to go on 'offense' with the cash already raised.
AMC Share Price Analysis
AMC shares found support at the triangle uptrend line and as long as that holds then the stock can ignore the doubters and advance further. The current price stands at $56.22 and if it moves lower then $40 is the next target. The price of AMC is still well above the 50-day moving average and can be supported to $30 with the uptrend still intact.
AMC Daily Chart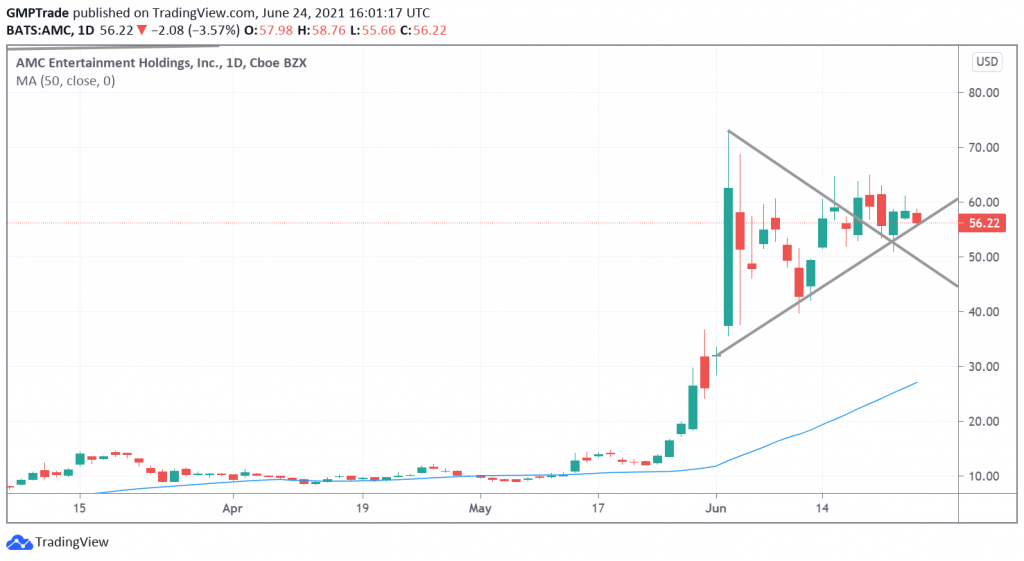 Next earnings now in sight
Investors will be looking to the next earnings release for AMC for further strength. AMC is projected to report earnings of -$0.90 per share, which would represent y-o-y growth of 83.46%. Meanwhile, the latest consensus estimate is looking for revenues of $362.27 million, up 1816.75% from the prior-year quarter.
The company could also update shareholders on their plans for the hoard of cash that has already been raised. Management suggested that they would target prized assets for their portfolio and positive balance sheet moves could also boost the stock's valuation.