AMC shares are higher again today by over 16% as the pair looks to retest the previous all-time highs. The share price is once again being driven partly by a short squeeze on bearish investors.
Call Options Driving a Price Battle
Some big call option interest is driving the AMC share price up as retail traders battle with short playerss and gamma squeezed market makers. Friday saw a failure for $50 calls, with the price closing just shy of that figure. This coming Friday, June 18th, will see a big expiry for $40 calls, with large open interest of 100,932 contracts.
The share price of AMC may have legs this week despite many discrediting the company as nothing more than a 'meme stock'.
Retail Holds 80% of the Shares
AMC's shares were soaring again on the day with the latest retail trader craze and the company said in a filing last week that over 80% of its shares were currently being held by retail investors.
Billionaire hedge fund investor Paul Tudor Jones told CNBC today that the "craziest mix of fiscal and monetary policy" has been the fuel for the current rally.
"Things are absolutely bat-s crazy and at some point you have to say, 'slow down, let's get back in the lanes and we'll drive like we used to," Tudor Jones said.
'Meme' stock tag is hurting shorts
The yearly action in GameStop and AMC has hurt the portfolios of traders who want to dismiss the two retailers as overbought. Both companies have seen the price of their shares soar as the economy moved back towards a full reopening from the pandemic shutdowns. Retail traders on Reddit have fuelled the move and continue to hold onto the stock for a breakout.
AMC Share Price Analysis
AMC share price is up over 20% on the day but this is a recovery bounce from the recent pullback. The coin is touching $60 and will look to test the recent highs at $70. The share price has been trading in a triangle formation and needs to get above the current level to see the highs once again. Support is well defined at $40 for AMC shares. If the price can get above this resistance then an extension of the triangle is possible to the $100 level.
AMC Share Price Daily Chart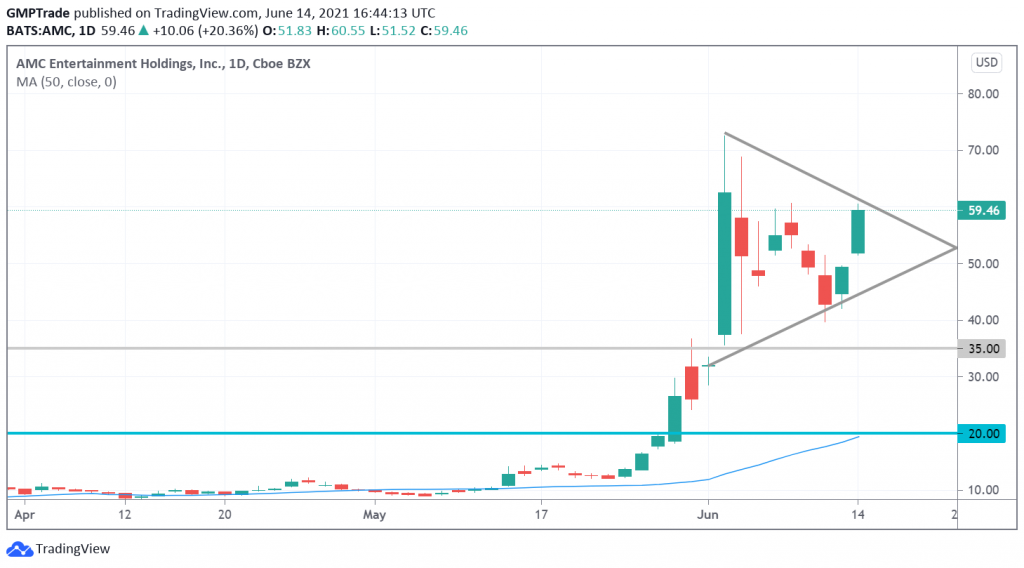 Recent Earnings Results
For the first quarter, ending March 31st, 2021, AMC's total revenue came in at $147.4 million, to mark an 84.3%  decline  year-on-year. The company's EBITDA came in at negative $294.7 million, while free cash flow was negative $324.8 million. The company generated losses of $427.8 million from operations and a $567.2 million net loss for the quarter.