Cineworld share price has struggled with the coronavirus lockdowns as the company faced the closure of its key assets.
Virus Hits Cinema Revenues
The coronavirus pandemic decimated the entertainment industry and Cineworld faced a tough battle over the last year. With lockdown restrictions stopping individuals from going out and enjoying entertainment, companies like Cineworld have seen their share price plummet as they struggle to remain afloat.
The sharp decline in Cineworld's revenue hit the company outlook but with the recent reopening of economies, it's reasonable to expect that demand for the big screen experience could return quickly.
In March of 2021, Godzilla vs Kong outperformed expectations and this was helped by an alternative streaming option. More recently, management released an update that said the Peter Rabbit 2 film had also seen a strong performance and helped to boost concession income in food and drinks.
Almost 97% of the companies cinemas have now reopened, while there could soon be a flood of delayed films for viewers to enjoy.
Delayed Reopening and Variant Risk
Investors are wary about the price of Cineworld due to the high level of debt that was built up as the business was forced to borrow more money. 2020 also showed how the company is vulnerable to lockdown restrictions and that is a risk with the current rise of the coronavrius varinat, particularly in the UK.
Full Year admissions and revenues were 80% lower for the company and that saw a $800m liquidity raise and a $213m convertible bond issue. The company will be able to survive with this funding but the reopening has not been as free as many had hoped.
Cineworld Technical Outlook
The Cineworld share price was higher into March but has since sold off. The issue for the stock is that it has breached the previous bounce high from June 2020. The company now trades under the 100p level at 86.50p. Support is below at the 70p level where the moving average sits. A move back above the 100p level would be a good start for CINE shares to attempt the highs again.
CINE Weekly Chart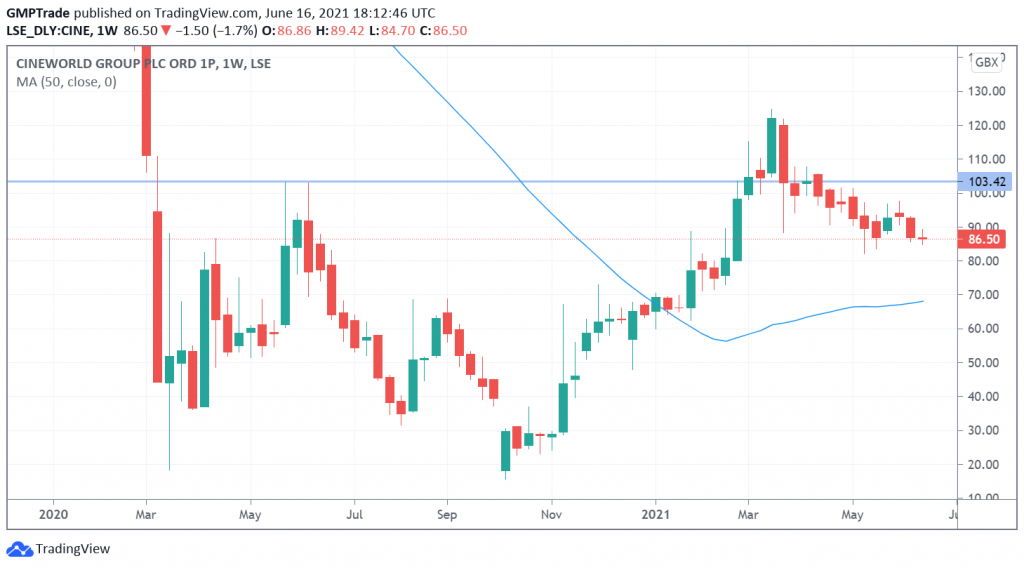 Streamlining Can Help the Rebound
The pandemic cost-cutting has helped to streamline the business for the future with closures of loss-making sites, particularly in the US. The company was also able to keep its staff via government furlough programs and that will put the company in a good place for the future.