The latest move higher in Cineworld shares has flopped and the stock will now look to test a key support level.
Berenberg bearish on Cineworld shares
Cineworld was lower after negative comments from analysts at Berenberg. The group said there were "too many unknowns" for the stock and that clear guidance was "lacking"
The research note on Thursday saw the broker raising their target price for the chain to 85p from 70p but retained their 'hold' rating, saying that company reporting was "unnecessarily complicated" and that "clear guidance in important areas" such as dividend payments was "lacking".
"We feel that, even if management can recover equity value in the business, this will weigh on its future earnings multiples", Berenberg said. The analysts did say that the company still had an important future in the retail space.
Smoke and mirrors in earnings?
Berenberg went on to criticize the Cineworld revenue projections saying:
"Most notably, it appears that a significantly shorter exclusivity window will become the norm (c30-45 days, versus c90 days previously). While upwards of 90% of revenues are made in those early weeks, even a marginal reduction in revenues would negatively affect earnings, with a high drop-through margin".
"Cineworld management has implied that any shortfall will be made up with a better revenue share – but these deals are shrouded in smoke and mirrors, and the proof remains to be seen," they added.
Cineworld Share Price Analysis
The downtrend line in Cineworld shares is well-defined and the stock has been rejected by the resistance at 88p. The strong move lower now suggests a test of the support at the 81.76p level. If that level gives way then the company can see its shares move towards the 72p price range. A move above the 88p – 92p levels is needed for the company to get back on a bullish footing.
CINE Daily Chart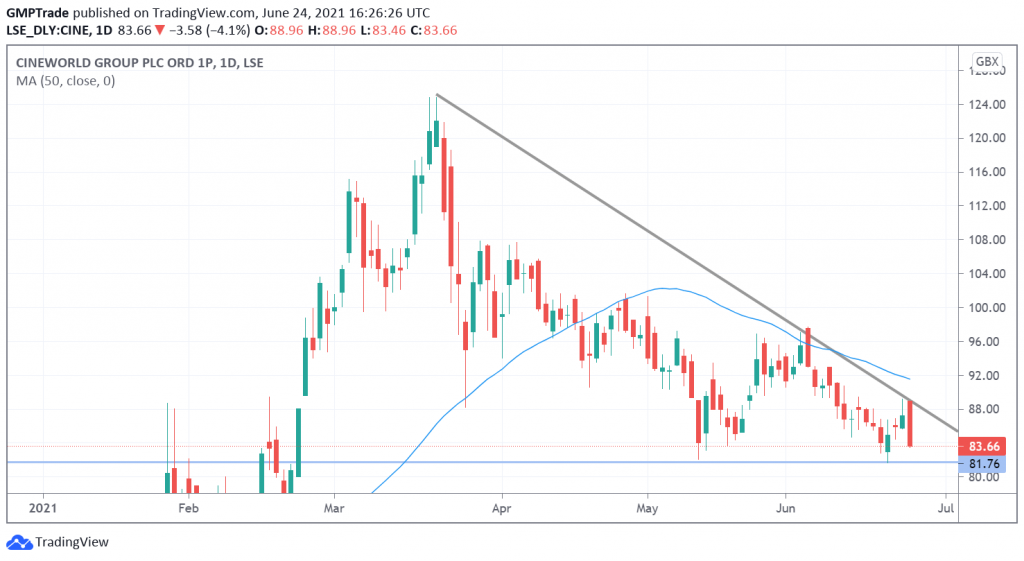 Virus variant spread not helping
The other headwind for Cineworld is the rise of coronavirus variant cases and if it continues into July 19th then the government could roll back the reopening and cinemas could again be in the firing line. The number of coronavirus cases in the UK rose by 44% in a week as over 16,000 people tested positive for the virus. This is bad news for Cineworld but investors will be late to act.