The price of Cineworld shares has slumped as investors fear the continued rise in coronavirus variant cases.
UK sees continued cases of variant
The UK is seeing virus cases at the highest level since January as the country prepares for the reopening on July 19th. Britain registered more than 26,000 cases of the variant today.
The country's new Health Minister, Sajid Javid, said that the country would have to live with the virus and that the July date was definitely the lifting of the final restrictions. Despite that statement, the price of Cineworld is losing ground as investors get nervous about retail shares.
Netflix takeover in the works?
Last year saw rumours that Cineworld may be taken over with Amazon being a contender to pick up the cinema chain, but it's now Netflix that is being linked.
The world's second-largest cinema chain has close to 10,000 screens and was also linked to takeover speculation by the Chinese based Jhango group. Amazon has spent $8.45m on MGM Studios and is unlikely to make another move quickly.
Cineworld Shares Technical Analysis
The price of Cineworld shares has started a breakout lower after seeing resistance in a price channel. The stock now risks a pullback to the lower levels of the channel which is around the 58p level. A break above resistance at the 83p level would see the 50-day moving average at 90p.
CINE Daily Chart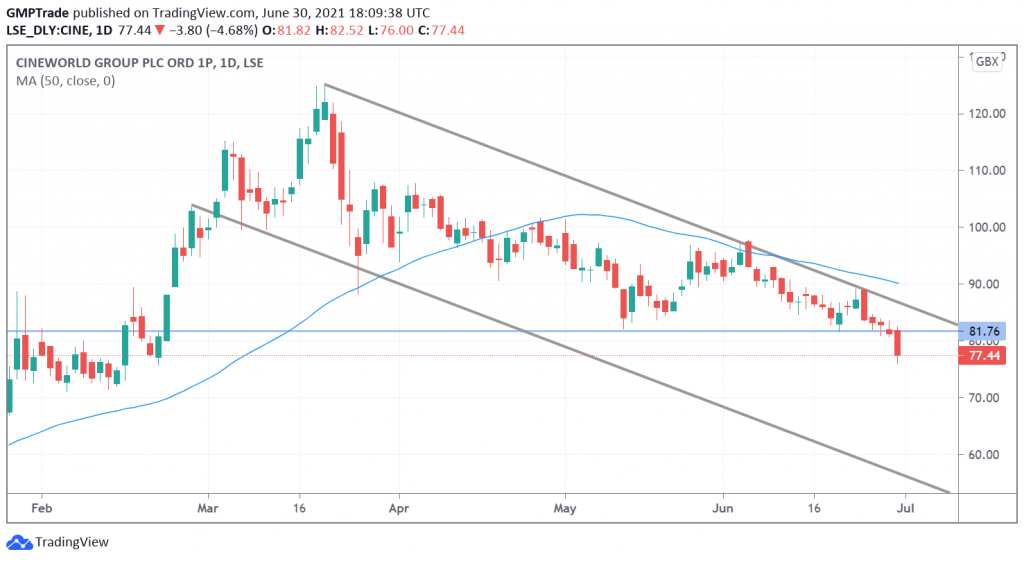 Fast and furious 9 could boost Cineworld shares
Universal's newest action flick, F9: The Fast Saga (the ninth installment of the Fast and Furious series), is the latest film to give movie theatres a shot in the arm.
Last weekend's domestic box office take of nearly $98 million in the USA is the best weekend the film industry has seen since the pandemic started in March 2020, according to figures from Box Office Mojo.