Easyjet has closed lower on the day after an attempt to get above the 1000p level. Citigroup analysts had said that there are other airline shares in Europe that they like.
Citi sees value in IAG, Ryanair and Wizz
Citi has recommended three stocks to invest in ahead of Easyjet, with the company seeing IAG, Ryanair, and Wizz as better value. The company sees further pressures from the altered landscape of the pandemic.
Companies will benefit somewhat as the pandemic has forced companies to be more strict about supply, which should result in greater pricing power in the coming years, Citi added. However, there will also be higher industry costs which will add structural headwinds.
"Against this mixed backdrop, we believe investors should spread their wings across low cost and legacy carriers for winners," Citi said.
There was still an upgrade of EasyJet to 'neutral', with Citi arguing that it would be boosted by the retrenchment of AF-KLM and Lufthansa, hence the 'sell' recommendation given to the latter two.
Variant cases are a headwind for airlines
The airlines have gotten the green light to fly across Europe again and there is already risk from the rising cases of the Indian variant.
Last week saw the UK hitting 10,000 cases per day for the first time since February, but the Indian variant is now the dominant strain in the larger European economies with 96 per cent of infections in Portugal, more than 20 per cent in Italy and about 16 per cent in Belgium, according to the FT.
The UK Prime Minister has a few weeks of room to the 19th July full reopening and the plan could go into reverse with further restrictions if cases continue to rise.
Easyjet Share Price Technical Analysis
Easyjet is trading within a well-defined price channel which was created by the recovery from the March lows. The price now trades at the 977.8p level after another attempt to get above the 1000p mark. Support comes in ahead of 920p and the channel support is at 880p. A move above 1000p can open the path to 1080p and the channel uptrend line.
EZJ Daily Chart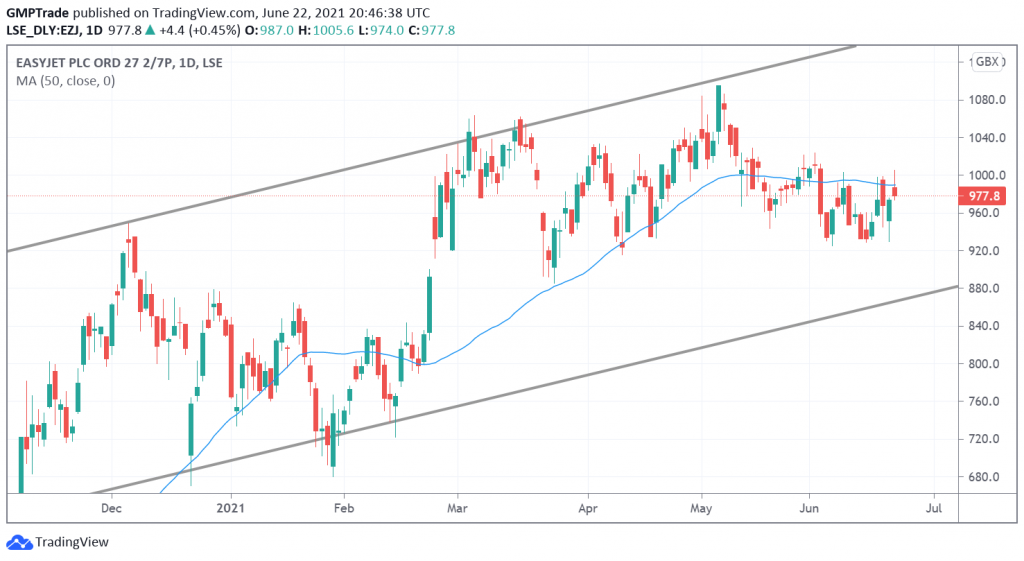 Hand luggage fees surge higher
Belfast-based Aer Lingus has joined Ryanair and Easjyjet to axe free hand luggage on flights within Europe, including the UK. Passengers will now be unable to 10kg cabin bag onboard free of charge. From June 29th, customers will have to purchase "priority boarding" for £5.99 or more to store 10kg luggage in an overhead locker.
The airline said: "These changes are being introduced to ensure faster boarding and de-planing, therefore improving overall customer experience."