The Easyjet share price has bounced at important support but the path forward will likely rely on the decisions of the British government.
Airlines bank on governments
Easyjet shares found a recovery path with the reopening of economies but the price is starting to drop as investors realize that the "freedom" proposed by the UK government is not very free at all. Continued restrictions on air travel, particularly for Britons, is coinciding with rising variant virus cases.
The new Health Secretary, Sajid Javid, has said that the 19th of July reopening date is set in stone, but the government has a track record of going back on those promises.
A look at Easyjet's finances
Management guidance for travel capacity is a return to 15% in June with the numbers rising thereafter. That's still a relatively low level and the cost per seat will remain high to compensate.
The company has successfully executed the "largest ever" structural cost-cutting programme in its history. EasyJet now expects operating expenses to fall by £500m by the end of 2021. Compared to the 2019 figures, that is an 8% increase in margins.
Combining those cost savings with a £2.34bn cash balance puts easyJet in a healthy position compared to some of its competitors.
Easyjet Shares Technical Analysis
Easyjet shares have bounced perfectly at the support from the price channel and have seen a two-day bounce. This is an important level for Easyjet and there is a risk of a drop through the support level. If that happens, the share price will go to 800p. The moving average near the 1000p level is resistance but the stock needs a catalyst.
Easyjet Shares Daily Chart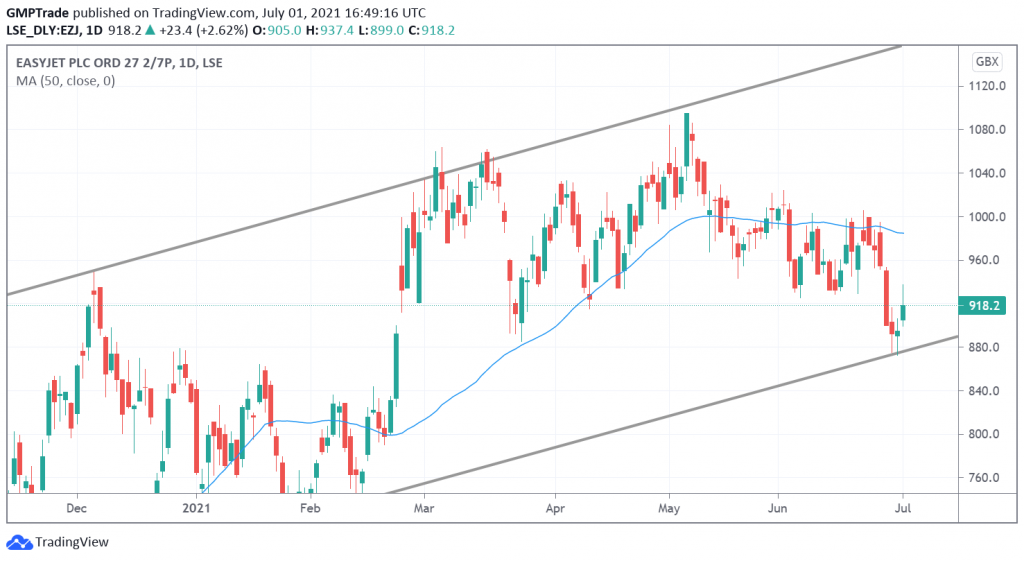 Virus variant is a headwind
Coronavirus cases have more than doubled in a week in the biggest daily surge since January. Over 27,000 new cases were recorded today and this is the real headwind for airlines. Britons are already being subjected to quarantines and other rules and there is a risk that the government will reverse the July 19th reopening.