The Easyjet share price has drifted lower from the May highs as the rise of coronvirus variants hit the prospects for a full recovery.
Easyjet Continues Recovery Path
EasyJet has been undergoing a large restructuring and cost-cutting program this year, which has seen redundancies, pay cuts, and other changes for flight crews. EasyJet's cost-cutting programme sought to deliver £500 million of savings in Full Year 2021.
Hopes were high that air travel would return to normal later this year and see an improvement in EasyJet's profitability.
Virus Variant Issues are a Problem
Easyjet has come under some pressure in recent weeks after Portugal was taken off the UK's travel "green list" and today Boris Johnson's decision to delay the full economic reopening is affecting the price of EZJ shares.
The next few months could be difficult, but luckily the company has plenty of cash to support the delays with a £2.9bn of cash at the end of March. The company's CEO Johan Lundgren does not expect to require further financing unless the 2022 summer holiday season is disrupted.
The recent rise of virus variant cases in the UK are a problem for Easyjet and the UK government could hit the share price if they attempt to implement further restrictions.
Easyjet Can Move Quickly
Based on the current travel restrictions in the market, Easyjet expects to fly 15% of 2019 capacity levels in the third quarter with the company hoping that capacity levels will increase from June.  The company said it can change course quickly in its recent earnings report, stating:
"We maintain significant flexibility to ramp capacity up or down quickly depending upon the unwinding of travel restrictions and expected demand, with the flexibility to maximise European opportunities.  This ramp up will involve increased variable costs during Q3 as we bring pilots and crew off furlough in readiness for the peak summer season in Q4."
Easyjet Share Price Technical Analysis
The Easyjet share price bottomed in the March crash and took until November to crawl off the lows with the release of the first coronavirus vaccine. The price of EZJ is now trading mostly with a price channel and the 1100p level has proved to be stubborn resistance for the shares. The price is now drifting towards the channel support near 900p and investors should gauge the price action at that level. The 50 moving average is at the 800p level.
EZY Weekly Chart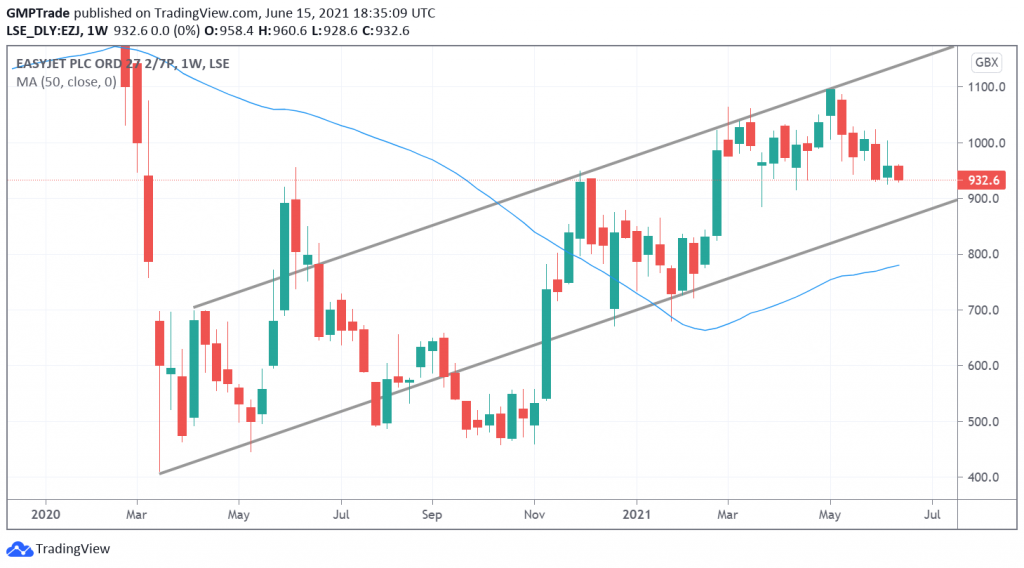 Latest Earnings Results for Easyjet
Passenger numbers for the six months ending 31st March 2021 decreased by 89.4% to 4.1 million. Total revenue for the half decreased by 90% to £240 million with passenger revenue decreasing by 91% to £170 million and ancillary revenue decreasing by 87% to £70 million. Losses before tax were £645 million for the airline.