Bitcoin and the cryptocurrency market have been hit on Monday by another crackdown on the industry by China.
China blocks institutions from products
Bitcoin and the crypto market were lower after China's central bank tightened restrictions on the cryptocurrency market. The Ethereum price is also pressured after The People's Bank of China (PBOC) told the country's large financial institutions to halt support of cryptocurrency transactions.
The institutions also have to identify transactions from exchanges' and over-the-counter dealers' capital accounts and sever payment links. The writing has been on the wall for further Chinese regulation and the news is weighing on the market, which was already struggling to save the uptrend.
China has been developing its own digital Yuan and the latest restrictions are aimed at halting the dominance of third-party interests. The latest restrictions saw further pressure on the crypto mining industry with much of the bitcoin mines shutdown in Sichuan after authorities ordered crypto mining operations to stop, according to the Global Times. More than 90% of the country's mining capacity is estimated to be shut down and China is the dominant world player in mining.
But Ethereum is not Bitcoin
The benefit that Ethereum has over Bitcoin is that the latter is a threat to the Chinese digital Yuan. The government will move to halt the dominance of outright currencies, but they are less threatened, and actually likely to be supportive of things that boost digital adoption. Ethereum can offer developers things like smart contracts and other third-party tools which can see Ethereum still supported in the future.
Ethereum Price Technical Analysis
The price of Ethereum has fallen below a key resistance level on the day and a bearish close could see further losses for ETH. The coin saw resistance and support forming previously at the $1,287 level and that would be the target for further losses in ETH. The coin needs to see a strong close above the $2,000 level again to have a chance of getting back near the recent highs.
ETHUSD Daily Chart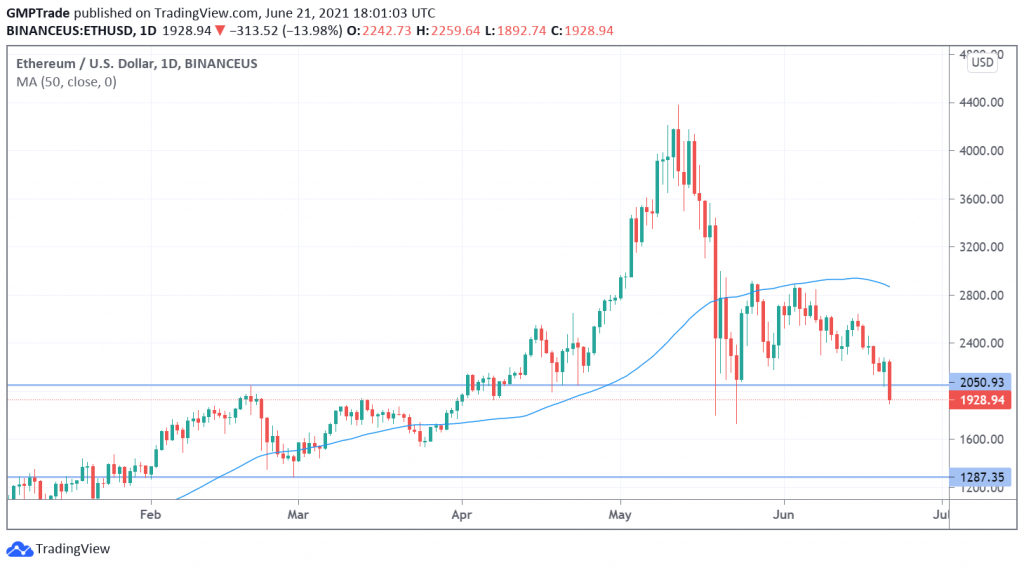 Ethereum 2.0 in the works
Ethereum is laying the foundations for Ethereum 2.0, one of the biggest upgrades in the history of any public blockchains. 2021 has seen good progress on this as Ethereum looks to shift from the Proof of Work model to the much anticipated Proof of Stake algorithm. The goal is to reduce fees and increase scalability for the secon-largest project.