The Glencore share price is hovering at its all-time high as investors cheer the strong rebound of commodity prices. The stock is trading at 340p, which is slightly below its all-time high of about 350p, even as the company faces corruption charges.
Commodity prices boost GLEN
Glencore is a leading commodity mining and trading company with a colourful past. The company was founded by Marc Rich, a legendary trader who also became a fugitive. He was pardoned by Bill Clinton, in one of his most controversial acts as president. Glencore stands for Global Energy, Commodities and Resources. It has more than 65,000 employees in 6 continents.
Glencore makes most of its money from mining and selling resources like copper, iron ore, and nickel. It also makes a substantial amount in commodities trading. In the last full year, the firm made $7.8 billion in its industrial segment and about $3.7 billion in trading.
The company has benefited substantially in the past few months as commodity prices have risen. Indeed, in the first half of the year, the company made more than $93 billion in revenue, up from the previous year's $70.9 billion. Its net income jumped to more than $1.27 billion. This made it boost its dividends and buyback program.
As you can see below, the Glencore share price has outperformed that of other companies like BHP, Antofagasta, and Rio Tinto.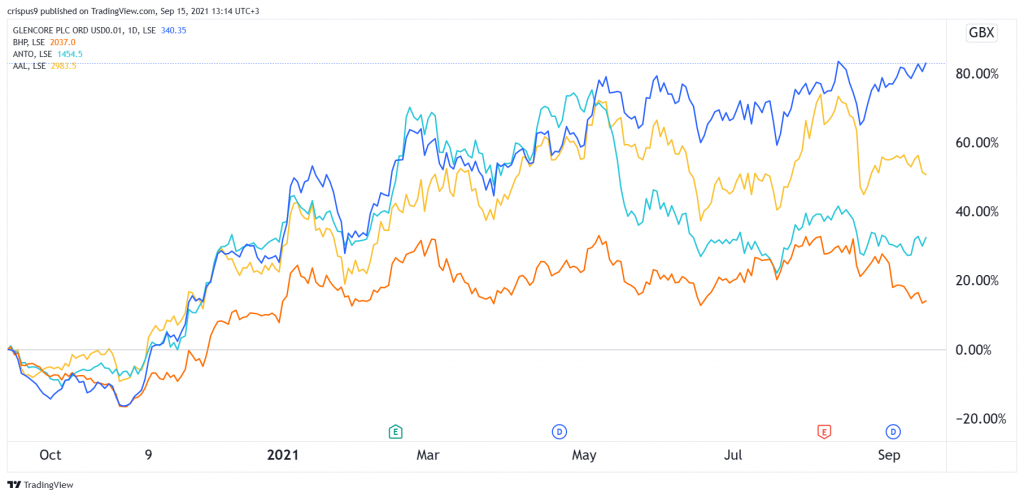 Now, the company is facing an investigation into corruption. According to Bloomberg, Anthony Stimler, a former Glencore executive is helping investigators in the ongoing probe. He confessed to paying millions of bribes to African leaders. Still, Glencore says that the firm has changed its business model and that it does not use intermediaries now.
Glencore share price forecast
The daily chart shows that the Glencore share price has been in a strong bullish trend in the past few months. Along the way, the stock has found a strong resistance at 340p. It has struggled to move above this level several times before. This level has also become the upper part of the ascending triangle pattern.
It remains above the 25-day and 50-day moving averages (MA) while the Relative Strength Index (RSI) has been in a bullish trend.
Therefore, in this case, the trend is your friend, meaning that the stock will likely maintain its bullish trend. If this happens, the next key resistance to watch will be 370p.