The Lloyds share price tumbled by more than 3% on Monday as investors weighed the rising risks of the UK economy. The LLOY stock declined to 43p, which was the lowest it has been since Thursday last week. It is also one of the worst-performing stocks in the FTSE 100 index.
UK economic mood dampens
The Lloyds Bank share price declined as the economic outlook of the UK economy worsened on Monday. Indeed, the British pound fell to the lowest level in almost a month while the FTSE 100 index declined by more than 1.60%.
The sell-off today was triggered by the strong rally of natural gas prices as many companies shut down their fields for maintenance. Key sites also went offline during the pandemic. Therefore, there are risks that the rising cost will lead to significant weakness of the economy.
Also, there are risks about higher inflation considering that consumers are expected to pay more in energy bills in the coming months. Just last week, data by the Office of National Statistics (ONS) showed that the consumer price index rose by 3.2% in August. This was substantially higher than the expected 2.9% and the previous month's 2.0%.
Therefore, the Lloyds bank share price is falling simply because of its significance in the UK economy. Unlike other banks like HSBC, Standard Chartered, and Barclays, it does not have major operations abroad. It also does not have major trading operations that could offset the weakness of the consumer.
The stock is also falling because of the overall contagion risks pushed by the impending collapse of Evergrande, the giant Chinese developer. Also, investors are waiting for a statement by the Federal Reserve on Wednesday.
Lloyds share price forecast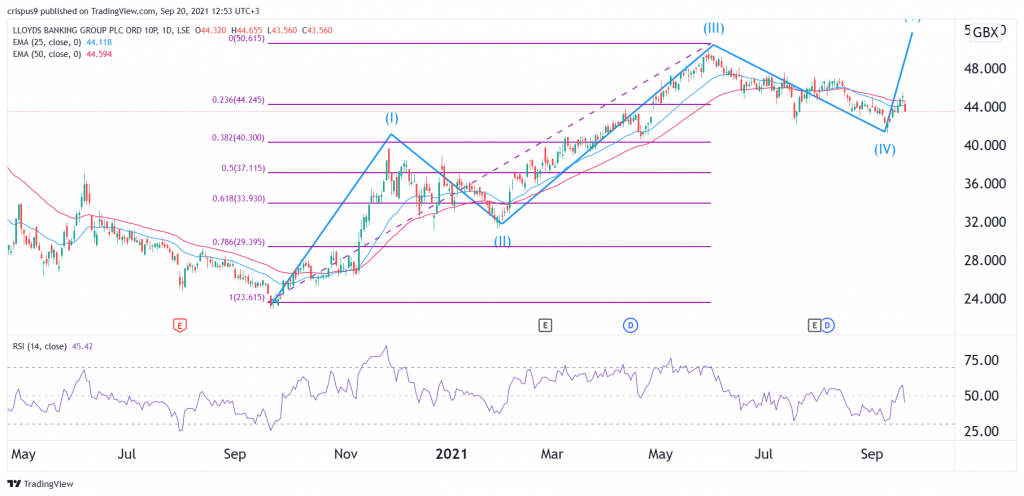 The daily chart shows that the LLOY stock has declined substantially from its highest level this year. Also, the stock has completed the formation of the impulse wave of the Elliot wave. It is also slightly below the 23.6% Fibonacci retracement level and a few points below he 25-day and 50-day moving averages.
Therefore, the stock will likely rebound later this year as bulls attempt to retest the key resistance at 50p. On the flip side, a drop below the support at 40p will invalidate the bullish call.