The price of IAG has bounced strongly from support at the 170p level after a recent slump but the share price is still vulnerable.
PM commits to reopening
IAG shares have gotten a lift as the UK government continues to commit to the July 19th reopening.
British Prime Minister Boris Johnson was due to clarify plans on Monday to end social restrictions in England, in a test of whether the vaccine rollout can contain the variants. Johnson's announcement at 1600 GMT will confirm the easing plan and add guidance on other measures.
Airline stocks are getting a boost as hopes rise that the lockdown and travel restriction nightmare can start to come to a conclusion.
"I must stress that the pandemic is not over and that cases will continue to rise over the coming weeks," Johnson said.
Barrons sees value in IAG
Barrons financial publication was upbeat on shares of IAG in a report released at the weekend.
The research suggested reasons for gains in the price and the first was that the high vaccination uptake in the UK and the US will lead to more demand and freedom to travel.
Secondly, they noted that the company has limited exposure to corporate travel, which will continue to remain weak as businesses embrace work from home agendas. The third reason noted was a decision by Norwegian Air Shuttle to suspend transatlantic trips and that will open up routes for IAG. Barrons also noted that analysts see revenues of £16.5bn for the year and that will be a big improvement from last year's £6.8 billion pounds.
IAG Share Chart Analysis
The price of IAG slumped after a break of the triangle formation and the share hit the 170p level. The price has since bounced from there with a move to 188p but the shares are vulnerable below the 50-day moving average. A move back above 200p would help the bullish cause, while a break below 170p would open up a move to the 155p level.
IAG Daily Chart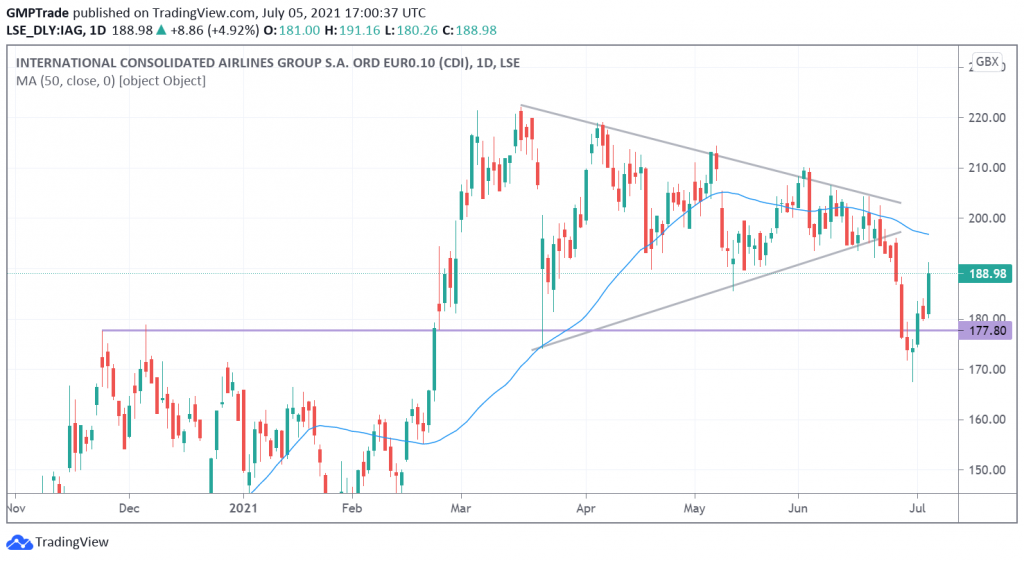 European spread is a headwind
With a lower vaccine uptake in Europe, a continued spread of the virus could hurt the IAG outlook. But this was countered by news that tourism and aviation bosses have urged the UK government to add more destinations to the country's green list for international travel. If the government is serious about "learning to live with" the virus then opening up is the right course.