The IAG share price has recovered from the worst of the pandemic damage to the airline industry and now trades at 200p, with the stock looking to move higher after recent consolidation.
IAG Sees Headwinds in Government Delays
IAG, the group that runs British Airways, Iberia, and Aer Lingus, has seen a recovery in its share price with the vaccine rollout across the globe.
The share price of IAG is holding up well despite the delays to a full reopening, with the restrictions on travellers being another headwind. This week saw Boris Johnson and MPs vote to delay the UK reopening for a month, while a recent decision to take Portugal off the UK's green list was also a blow for airlines.
There's a lot of pent-up demand to fly again after the recent lockdowns and the outlook for IAG is improving. Analysts are expecting the company to post revenue 33% higher this year to €10.5bn.
Bookings May Be Sluggish and Oil is Climbing
IAG said in its recent first-quarter earnings release that capacity in the second quarter is set to be just 25% of what it was in 2019. The numbers suggest that a full recovery may take more time.
Another worry for the company is the rise in fuel prices. The price of Brent crude is back above $70 and this is not ideal for the company, although they will be hedged against large gains and that should support the share price.
IAG Share Price Technical Analysis
IAG share price is playing out a potential bullish pennant formation after a recent consolidation. The shares saw a high at 220p in March and are now anchored at 200p. An extension of the penant would see the share price heading for 240p. If the price moved lower then the stock would see support around the 175-180p level. The stock changed hands for 453p in January of 2020.
IAG Daily Chart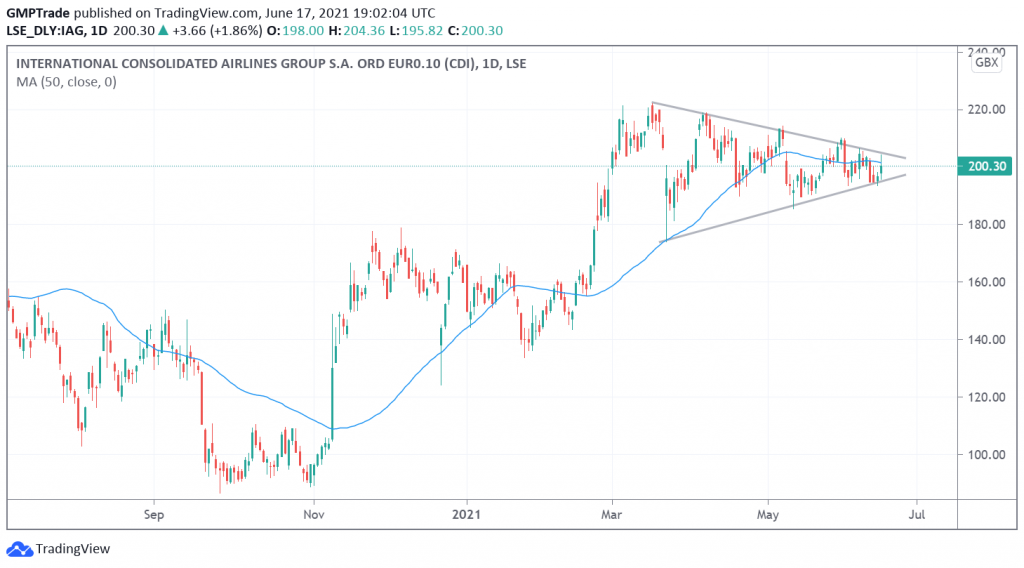 Debt is an Issue
Like all of the hard hit sectors from the pandemic, IAG saw a rise in its debt. At the end of March, the company reported net debt of €11.5bn, up by 18% from the previous year. Since then, there was the launch of an €800m convertible bond. This would be a problem for the company if governments try to push for further restrictions or lockdowns after the summer.