Lloyds share price saw resistance at the $50 level and is now trading around this level which will be key for further gains.
Lloyds Recovers from Pandemic Slump
The Lloyds share price saw a low in September of 2020 near the 23.50p level. A breakout in March of this year has helped to see gains and the 2020 highs would be the next target if it can find buyers.
Lloyds had to set aside large amounts of money for potential pandemic losses, which in Q2 of 2020, was £2.4bn in impairments. The arrival of vaccines and their rollout has seen a strong recovery for the UK economy and Lloyds was a key benefactor.
Government Decisions Could Weigh
The decision by MPs to vote for Boris Johnson's delay to the reopening is a headwind for the company as it means the economy is not out of the woods. A delay into July 19th as MPs have decided, means that the summer weeks will disappear and we could see a desire for further lockdowns as winter approaches.
The market overall is fully pricing in a healthy and happy recovery for the UK economy and that leaves stocks vulnerable to a change of course.
Lloyds Share Price Technical Analysis
The share price of Lloyds saw a breakout in March with the shares racing to the 50p level. That is a key crossroads for the stock after the same level provided support in August of 2019. The swift move higher leaves the stock vulnerable for a retracement where support would start near the 42 or 40p level. The target for further upside is 2020 highs at 70p.
LLOY Weekly Chart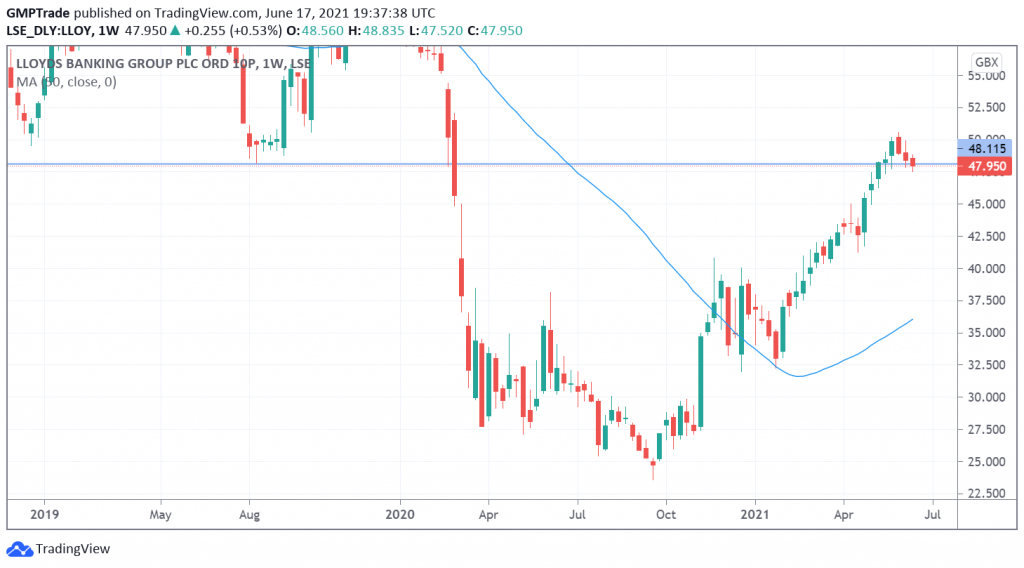 Lloyds Earnings Highlights
Lloyds Banking Group announced its last earnings on April 28th of this year with the bank reporting Q1 profit of £1.4bn. Customer deposits were up £11.7 billion in the quarter to £462.4 billion with Retail current accounts up £5.6 billion. The company is benefiting from the release of previous credit impairment funds as the economy recovers from the worst of the lockdowns.