Rolls Royce shares have seen buyers emerge at the 100p level and there is hope for further gains in the engine maker.
Rolls hinges on UK and European freedom
The price of Rolls Royce shares will depend largely on the government's plans for the July 19th reopening. German Chancellor Angela Merkel boosted the company with a u-turn on the plans for a European-wide quarantine on UK travellers. New UK Health Secretary Sajid Javid also said that the UK would not see the reopening reversed.
The green list of countries that people can fly to has been expanded and this will help to boost the outlook for engine hours.
The headwind is that variant virus cases are rising in the UK and Europe and it will be a nervous two weeks to the reopening date.
Rolls Royce solving 787 issue
Rolls-Royce is optimistic that it can move beyond the jet-engine issues that have cost the company billions of pounds. Final fixes to glitches that affected the Trent 1000 turbine powering Boeing's 787 Dreamliner should be made this year, engineering and technology director Simon Burr said.
"After a difficult three or four years, I feel confident about the durability of the engines and the future," Burr said in an interview at Rolls-Royce's main manufacturing base in Derby, England. "We have learned a lot."
Rolls Royce Chart Analysis
Rolls Royce shares have found support at the 100p level and could be on for further gains from here. The share price has seen the 96p level hold up over the course of 2021 and this gives hope for another push to resistance. The targets for Rolls are at 12p and 129p. Further losses would see a test of 90p with the support lying further away at 65p.
Rolls Royce Weekly Chart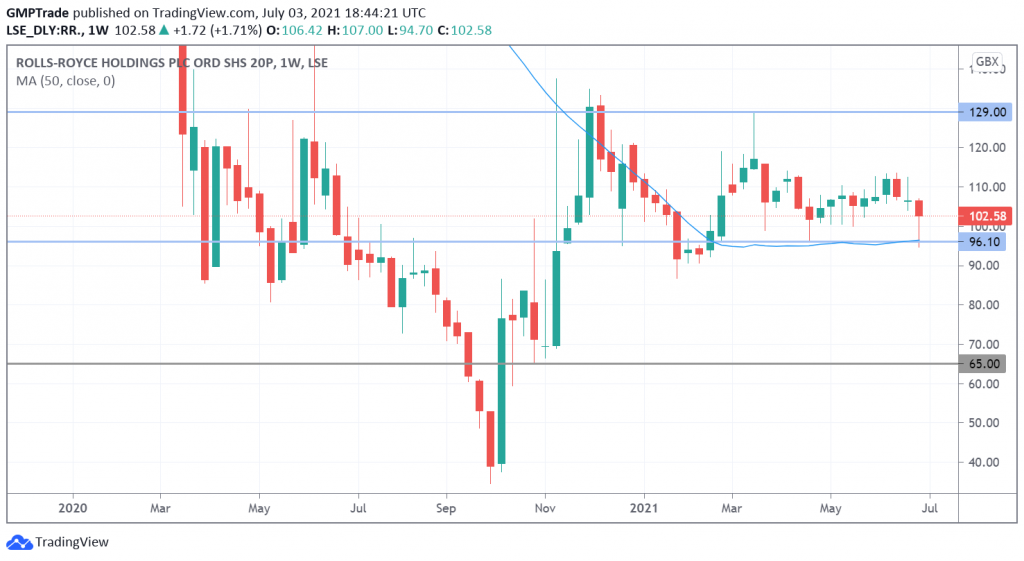 Berenberg sees shares as a 'top pick'
Analysts at Berenberg named the stock one of its 'key picks' in the civil aerospace sector earlier this month.
The company said that the deep restructuring should drive bigger operating margins within three to five years in comparison to pre-virus levels. Berenberg has a target of 150p for Rolls Royce. The analysts see the company "fundamentally" improving its cost structure which would "generate financial results far in excess and of better quality than before."
Berenberg's sales and free cash flow forecasts for the sector in 2022 and 2025 drop by 25%/19% and 52%/35%, respectively.