The Royal Mail share price has had a tough month in August. the RMG stock has declined nearly 6% since the start of August as investors watch the company's recovery closely. It has a total market capitalization of £4.92 billion. Royal Mail is the leading postal company in the UK.
RMG's Performance
Royal Mail Group eased from its rally. The RMG share price jumped from last year's low of 117p in March to a high of 616p this year. It rocketed 417% to June 2021, propelling it into the FTSE 100 index. The company has jumped more than 48% since the start of the year.
According to most analysts, the Royal Mail's remarkable performance is due to the increased demand for its services. The surging cases of coronavirus infections alongside strict government restrictions drove many people to e-commerce platforms for their shopping.
As such, the company posted strong results this year. According to reports released earlier this year, Royal Mail delivered a full-year performance above the company's initial expectations. The company's revenue jumped 12.0%, while its operating profit climbed 116%.
Investors are worried about whether the increasing demand will remain intact for the second half of 2021. With the easing of lock-down restrictions, many e-commerce companies have continued to lag.
Investors will be closely eyeing the Royal Mail share price in September. The company is expected to publish the latest trading statement on September 23, thus giving an outlook on the company's growth.
Royal Mail Technical Analysis
The four-hour chart shows that the Royal Mail share price has been under pressure for the past couple of weeks. Along the way, it has formed a descending channel. At the time of writing, it was trading 0.66% lower at 492.2p.
It is trading below the 25 and 50-day exponential moving averages. It is also below the 50-day moving average.
Therefore, the RMG stock is likely to break out to the downside in September. As such, there is a possibility that the stock will decline to find support at 480p. However, a move above the resistance at 502p will invalidate this view.
RMG Share Price Chart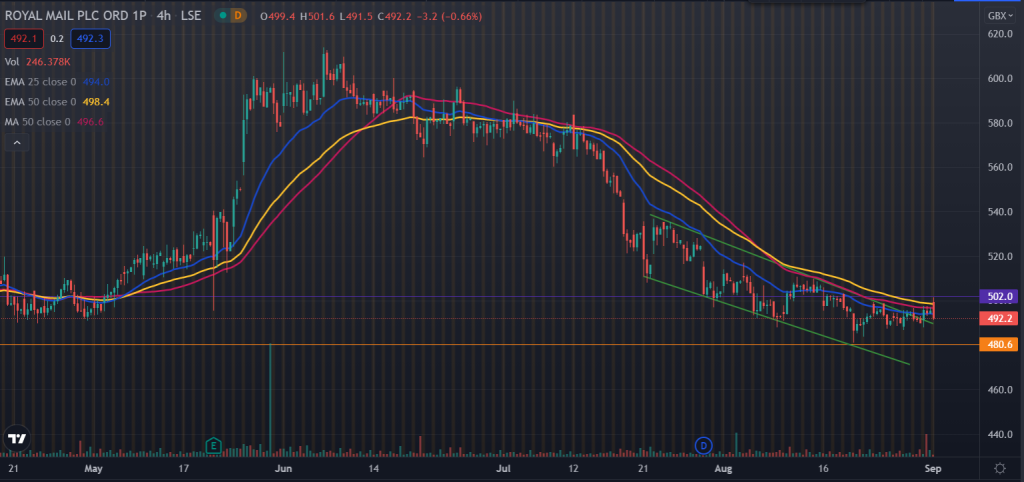 .