The Royal Mail share price has been flying higher in 2021 and the company now trades at a crucial resistance level at 600p. The action here will determine whether the stock can get to further highs.
What's Moving the RMG Share Price?
The current share price of nearly 600p is a rise of over 300% since the lows in April of last year. The strong performance has been spurred by willingness among management to alter the business plan, which has also been helped by rising profits.
The recent full-year trading update was very good with RMG fearing losses, but posting an operating profit of £702m. This was over 100% more than the year before and was an outperformance on market expectations.
Delivery Shake Up Boost Shares
Investors have been delighted by a recent move by Royal Mail to compete with e-commerce titan Amazon by allowing customers to choose timed delivery slots.
In a video message to its 140,000 staff, the company said that a new three-tier delivery system will be launched.
"Longer term, we're looking at what customers actually need and how we can reflect that in our products," chief commercial officer Nick Landon said.
"And we want a three-tier product portfolio because three is a magic number. People always like to choose from three."
A middle tier, expected to be named "My Choice", will allow customers to choose which day their items will be delivered, with the most expensive tier allowing a time slot option.
RMG Share Price Analysis
The RMG share price has soared since a breakout at 250p going into 2021. The price moved rapidly to resistance at the 400p level and the bulls remained in charge with a push to 600p. This price level is now crucial for Royal Mail Group as the latest weekly candles are showing a bearish setup in the price. A pullback in the stock is now possible if the bulls don't emerge in the coming week or two.
RMG Share Price Weekly Chart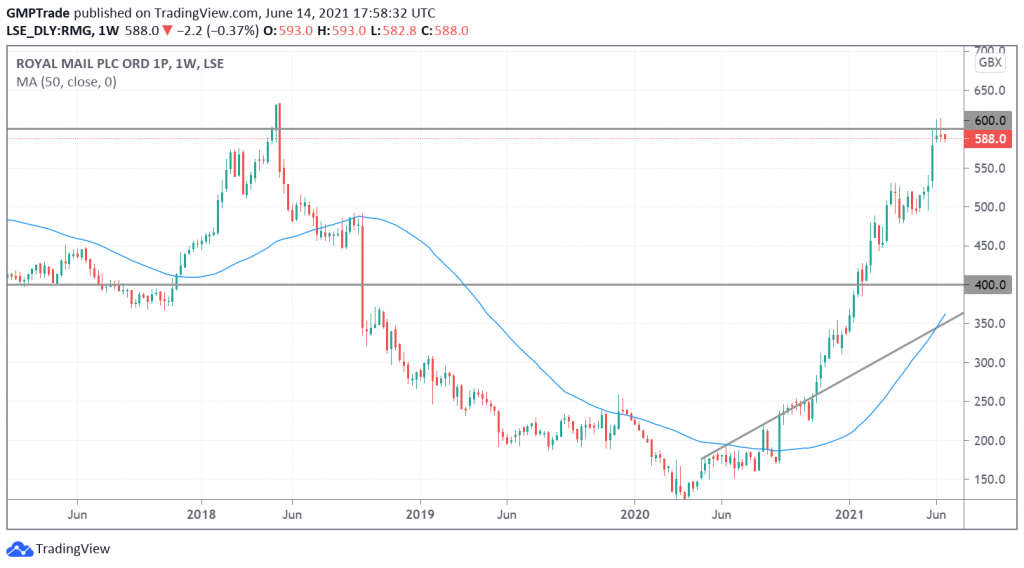 Full Year Turnaround Complete
Royal Mail saw its annual profit more than double in the last year, boosted by a surge in parcel deliveries as customers turned their attention to online shopping. The profit surge was driven by a series of bumper sales figures as Royal Mail continued to profit from the e-commerce boom during the pandemic.