The Chainlink price has found support recently from the $15 level and needs a further catalyst to secure the rebound.
ApeSwap adopts Chainlink tech
ApeSwap has announced the adoption of the random number generator from Chainlink VRF (Verifiable Random Function). The announcement made via Medium on June 30th explained how ApeSwap would use the VRF to select winners of its weekly Non-Fungible Ape (NFA) rewards draw. When it comes to random number generation (RNG), Chainlink VRF is number one in the industry. ApeSwap will make weekly distributions of BANANA tokens to random Non-Fungible Apes (NFAs) holders.
ApeSwap provides a suite of decentralized finance (DeFi) products on Binance Smart Chain (BSC). The protocol offers users numerous services such as yield farming, Initial Ape Offerings (IAO) for new tokens, NFAs for non-fungible token (NFT) collectors, and BANANA staking pools. The ecosystem has experienced significant growth with $280m in Total Value Locked (TVL).
Chainlink acquires DECO
Chainlink announced recently that it has acquired DECO from Cornell University.
According to Smartcontract.com, Chainlink co-founder Sergey Nazarov's site, DECO is an improvement on how to utilize HTTPS/TLS, for data transmission across the internet. The technology was developed by Dr. Ari Juels, the former Chief Scientist of RSA, one of the world's largest security companies. The technology could be a game-changer for LINK in the DeFi space, but in the wider theme of corporate adoption of blockchain technologies.
One of the challenges it could solve is the bridging of information sourced from the real world and delivering it to a smart contract in a way that the data can be proven to have come from the original source.
Chainlink Price Analysis
The price of LINK has found support for a potential double bottom at the $15 level. The market has so far put in a very weak bounce to the $20 level. The price of Chainlink will need to put in a stronger rally over the next 10 days to signal a rebound in the coin. The $28 level is resistance for the price of LINK to make another move towards the $52 level.
LINKUSD Weekly Chart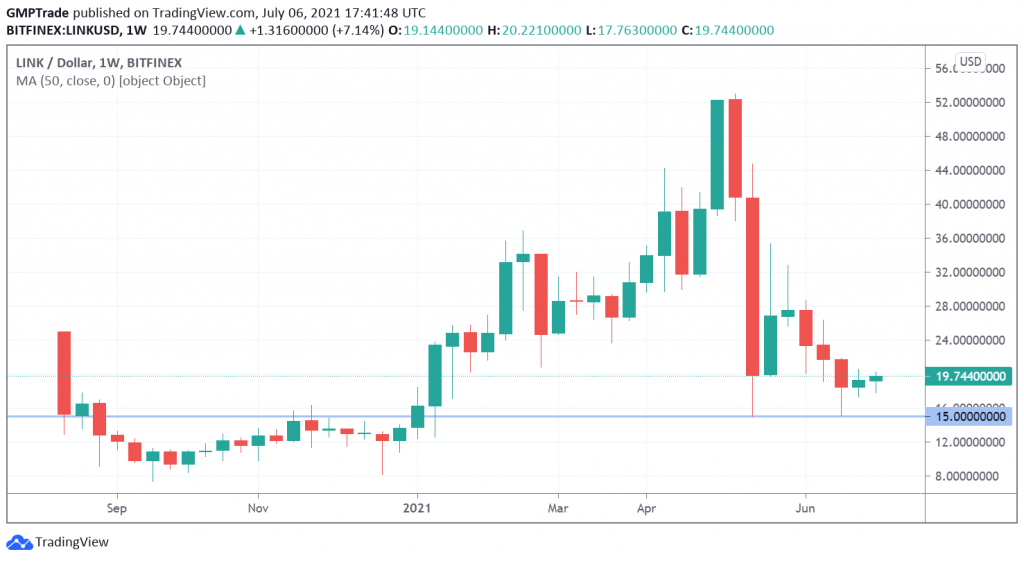 Chainlink ties with insurance startup
Data provider Chainlink will provide decentralized weather data for a new farming insurance startup Arbol, according to CoinDesk.
Arbol offers crop insurance for small to medium-sized farmers or enterprises and uses smart contracts to pay claims to subscribers when preset values, such as the average monthly temperature or rainfall, triggers the contract.