The Easyjet share price has bounced recently as the UK government commits to the reopening date on July 19th. Travel groups are also pressuring for an extension to the country's 'green list'.
Green list should have 20 countries more
A travel expert has claimed that some 22 countries, including Italy and France, already meet the government's threshold to move from the amber to green travel list.
Aviation consultant and former British Airways strategist Robert Boyle told The Telegraph he has used an algorithm based on the UK government's data. The criteria state that a country has to have an infection rate lower than 20 cases per 100,000 people and have a positive testing rate of less than 1.5%.
"There seems to be nothing in the data the government says it is using that explains why they are languishing on the amber list at this point. There doesn't even seem to be any obvious political logic for why two apparently similar countries get classified differently," Boyle said.
Airline stocks helped by euro easing
Airline shares were higher this week after restrictions on people traveling from the UK to Germany have been eased, opening up quarantine-free travel for vaccinated visitors.
The decision to remove the UK, as well as Portugal, from the list of Germany's "virus variant" areas came just days after the meeting between Prime Minister Boris Johnson and German Chancellor Angela Merkel. Easyjet shares can continue higher if the trend towards restriction-free travel continues.
Easyjet Share Price Analysis
The price of Easyjet shares has made an important bounce at the price channel from the March 2020 lows. The share price will now look to push back to the moving average and the 1,000p level. The resistance for the channel uptrend would be above the May highs of 1100p. The 1000p level is the only obstacle to get there.
EZJ Weekly Chart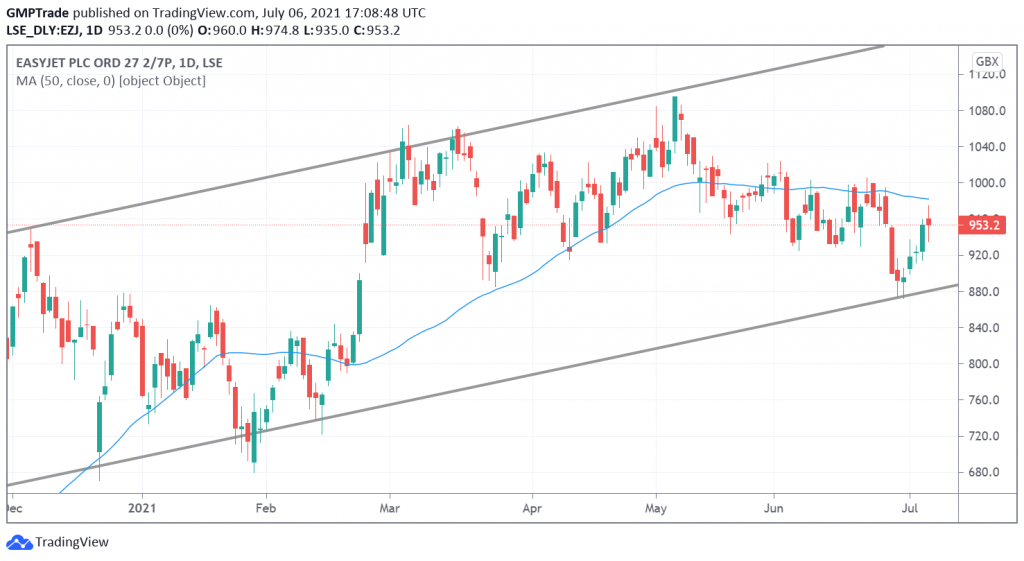 PM's commitment to 'freedom day' boosts
Boris Johnson is making a stand to end coronavirus curbs on July 19th with a plan to axe obligatory masks and limits on gatherings. The PM said: "If we can't reopen our society in the next few weeks…when will we?"
The comments echo recent statements from health minister Sajid Javid, who said the country must "learn to live with the virus". These statements give hope to airlines that the nightmare of the last year can start to end.