Dogecoin was 17% higher over the last 24 hours as the cryptocurrency market bounces from the recent sell-off.
Co-founder buys for first time in 8 years
Billy Markus, Dogecoin's co-creator, said yesterday that he'd bought some Dogecoin for the first time in eight years, after previously selling all of his holdings back in 2015.
The co-founder abandoned the project years ago because crypto was seen as "dead" at the time – something he claims was untrue in hindsight. In a series of tweets, Markus sought to put the crypto market's recent dip into perspective and mocked the volatility of his purchase.
Markus may be looking to buy this dip after being ridiculed for missing out on the huge gains in Dogecoin over the past 6 months.
Cardano founder wants stability in DOGE
Cardano founder Charles Hoskinson recently talked about his hopes that developers would respond to Elon Musk's call for upgrades to the coin's infrastructure.
"My hope is that a compromise can be made where real developers come in and they start working on doge to create some use and utility for it so at least it has a value floor and won't collapse," Hoskinson said on a podcast.
He added that it would be "two or three years" before dogecoin could work as a modern cryptocurrency but he even suggested that dogecoin and Cardano could work together and said, "It would be a lot of fun".
DOGEUSD Technical Analysis
The price of Dogecoin is 17% higher after finally seeing a low from the recent collapse. The coin's bounce today could lead to more gains if the coin can close above the $0.25 level. If the coin can get back above that level then the 50-day moving average and resistance will come into play at the $0.40-45 level. The May highs in Dogecoin were near the $0.75 level.
DOGEUSD Daily Chart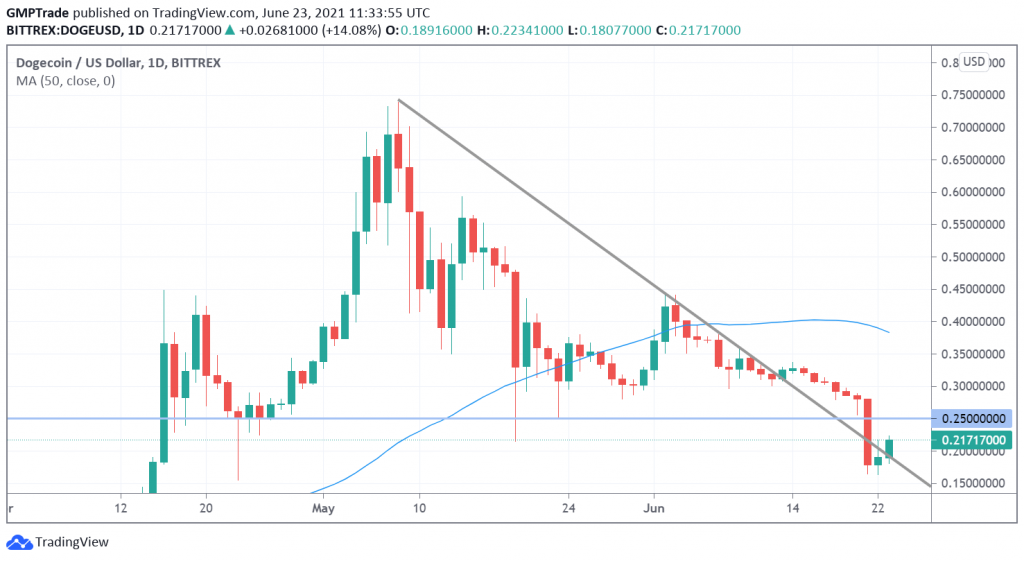 Market shrugging off Asian crackdown
Markets are doing their best to shrug off the recent clampdown by China on the crypto market. Korea was also getting in on the act after seizing coins for back taxes. South Korean officials seized more than 53 billion won ($47 million) in crypto from 12,000 accounts accused of tax evasion, according to the Financial Times. Crypto exchanges have until September to register with regulators as virtual-asset service providers.