Litecoin traded at new all-time highs above $400 in May but has since fallen below the $150 level. The coin is now trying to setup a bottom on the daily chart and start rebuilding the recent damage.
Wanchain adds smart chains to LTC
The Wanchain Foundation has announced that Litecoin is now fully integrated into its cross-chain infrastructure. Wanchain is a decentralized blockchain solution that connects the world's isolated blockchain networks and is the only decentralized finance (DeFI) project that enables true cross-chain transactions between isolated blockchain networks. Wanchain's infrastructure already supports Bitcoin, Ethereum, Binance Smart Chain and, XRP. The addition of Litecoin underlines the project's importance as a cross-chain solution for the world's largest projects.
Jack Lu, Founder of Wanchain said:
"Litecoin is one of the world's most important cryptocurrencies. It is also amongst the largest without smart contract capabilities. Wanchain and several of our enterprise partners are all very pleased at the prospect of what smart contracts and true decentralised cross-chain interoperability can bring to Litecoin and the blockchain community at large."
Bitmain releases new Litecoin miner
Bitmain, the largest supplier of specialised ASIC cryptocurrency mining hardware, announced the release of a new L7 Scrypt based mining hardware.
The new L7 purports to have a hash rate of 9500MH/s an increase of 19x from the previous generation L3+ that launched in 2017. The L7 supports mining of LTC and also Dogecoin, which is cross-mined with the former.
The release was shared by the Litecoin Twitter account recently.
Litecoin Price Technical Analysis
The price of Litecoin saw new all-time highs in May and has since fallen to a fraction of that level with the BTC fallout. The coin is now looking for a daily chart price bottom and the resistance is set in a pennant-style formation. A move above the $160 level will see the coin trade at the $220 level, which is the 50-day moving average.
LTCUSD Daily Chart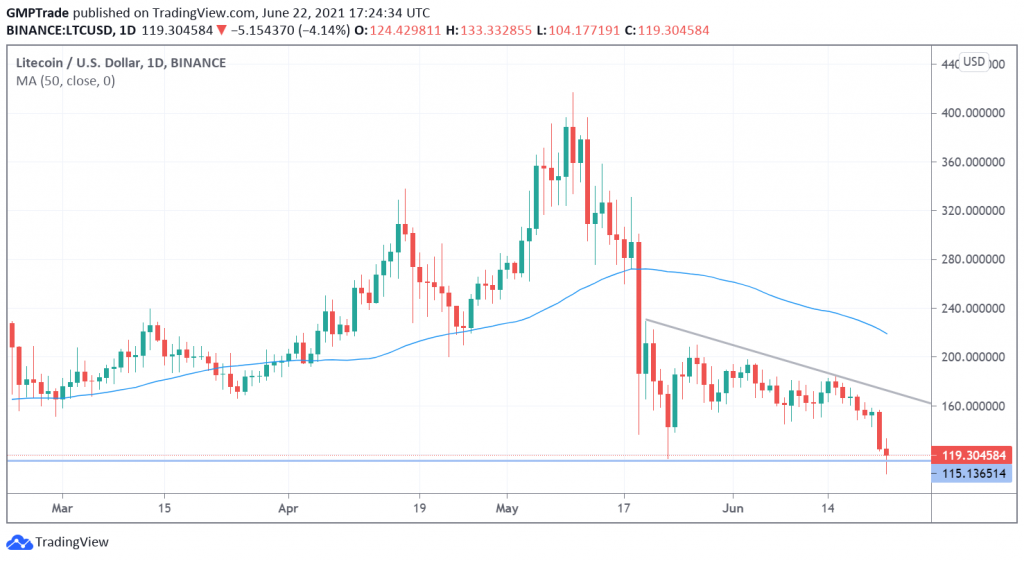 Nascar support adds buzz for Litecoin
The Litecoin project was boosted recently with the news that Nascar driver Landon Cassill was set to have his salary paid in Litecoin. The news then featured on CNBC Power Lunch with the driver interviewed for his thoughts on the project. The CNBC slot said, "Litecoin Enters the Mainstream" with the partnership.