The Royal Mail share price is drifting lower from resistance at the 600p level but the stock has seen a big upgrade from Credit Suisse.
Credit Suisse gives a big upgrade
Royal Mail Group PLC's share price target has been lifted 180% by Credit Suisse, which is playing catch-up after an online boom at the parcels and letters group.
The broker now sees the shares as being worth 647p, compared to a previous target of 284p. The target is also higher than the current price of 578.8p.
Profits forecasts were given a similar upgrade with Credit Suisse's forecast of EBIT rising to £688mln and £729mln in 2023. The broker's change of heart was down to the improvement in the number of letters being sent. Every 1% change in domestic letter volumes equals £30mln (4%) of its underlying profits forecast and this will continue to be a volatile variable for the shares.
Credit Suisse now sees letter volumes at 6% and 11% below the year to March 2020 compared to a previous forecast of a 15% and 19% decline.
When will a breakout occur?
The potential for a breakout could depend on the FTSE 100 and tomorrow will see the latest Bank of England interest rate and monetary policy outlook. That could see stocks fall if the BoE becomes more hawkish on rates, but it would likely have a short-term effect on RMG. If the bank is hawkish then a buy signal will be needed at lower levels. If the bank remains supportive with stimulus then it could move higher in the next week or two.
Royal Mail Share Price Analysis
The Royal Mail share price is carving out a bullish flag pattern which could see further gains in the price. But the 600p level was larger resistance and there is a risk of the price moving to the 50-day moving average at 540p. Traders should look to buy support at the lower trendline in the flag and see how the stock fares towards the 600p level.
RMG Daily Chart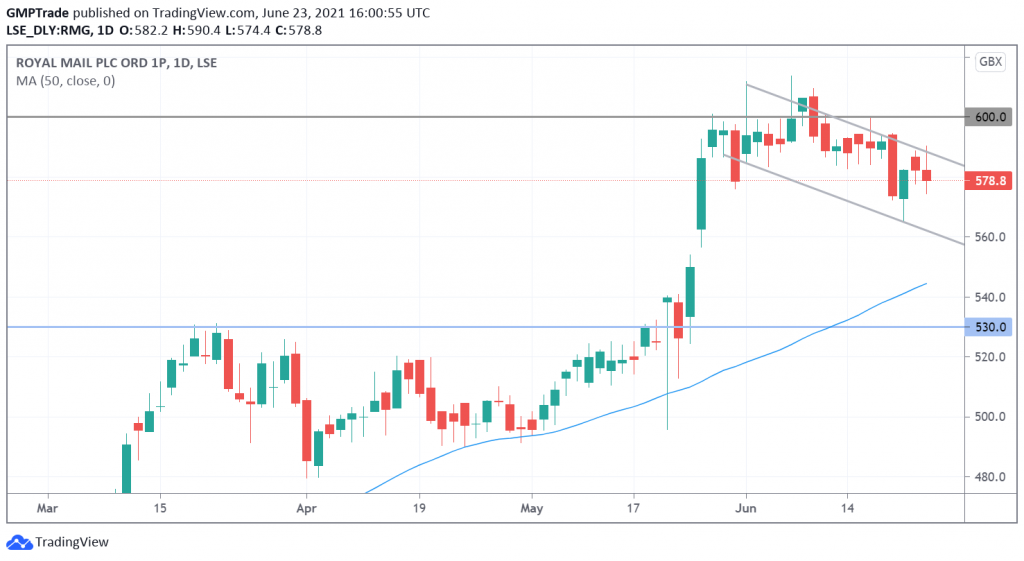 Pandemic boost for Royal Mail
Royal Mail has benefited from the pandemic as lockdowns saw a big rise in online shopping and parcel deliveries. At the start of January 2020, Royal Mail shares cost 220p per share but three months later, they had dropped to 124p for a 43% decrease. Since then the company has soared to 600p as the online boom allowed for higher profits and the company also employed an ambitious strategy to weather the crisis.