The price of Dogecoin is finding resistance at the $0.25 level as the market remains weak. Elon Musk has been tweeting more Doge-related innuendo but has failed to spur a rise in the coin.
Musk-inspired pump fades
Elon Musk was tweeting further Dogecoin innuendo with a meme about the coin and Polytopia, a civilization strategy game. The tweet was enough to see the price of Doge higher by 3% but that move has since faded.
Musk loves to toy with the emotions of crypto traders and has been at the centre of many tweets in 2021 that have moved coins around and, at times, infuriated crypto enthusiasts.
Baby Doge finds Musk's support
Musk's tweets were not all about Dogecoin as the Tesla founder showed some support for the latest spin-off coin, Baby Doge Coin.
Dogecoin was created after a fork from Luckycoin, a now-defunct cryptocurrency that was forked from Litecoin. Baby Doge is a BEP-20 token, which was created on the Binance Smart Chain, so it is similar in design to Shiba Inu, which was another Dogecoin spin-off and was recently listed on the Coinbase exchange.
The support for the new coin may be harmless but it risks taking investment flows away from the original coin. Musk had asked for developer ideas to improve Dogecoin, while Cardano's founder said the ADA and DOGE teams could even work together.
Dogecoin Technical Analysis
The price of Dogecoin is coming under pressure once again with resistance neat the $0.25 level. There is now a risk that the coin will pull back towards the June lows near $0.15. The first target on the upside is the moving average at $0.33. The current level is important because it provided important support in the past.
DOGEUSD Daily Chart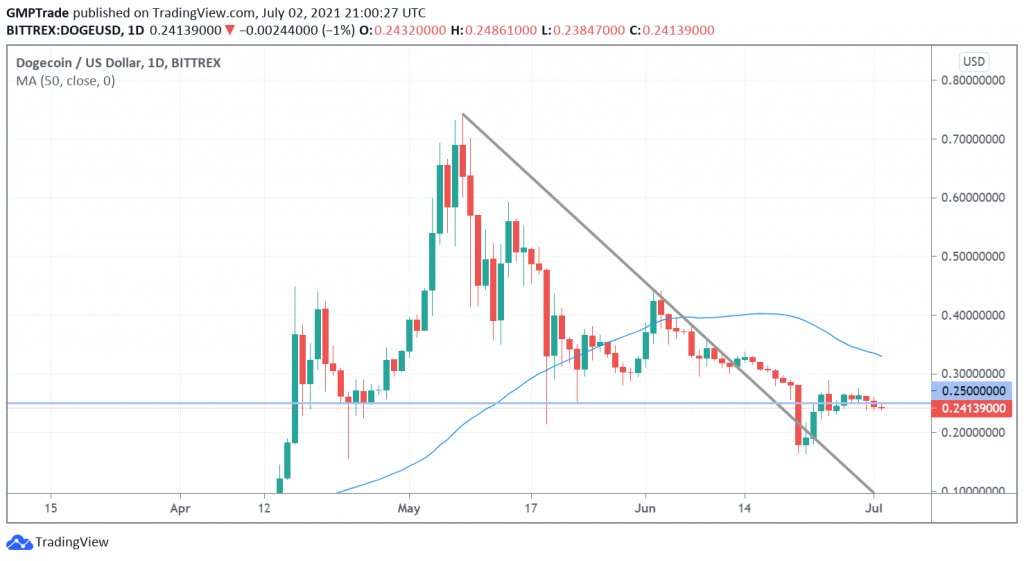 Robinhood cashes in on Dogecoin
The Robinhood trading app is claiming that over a third of its revenue for the first three months of 2021 has come from Dogecoin alone.
The firm declared in a filing to the US Securities and Exchange Commission on July 1st. Robinhood revealed that the token accounted for 34% of its cryptocurrency transaction-based revenue in the first quarter. Dogecoin income accounted for 6% of the trading firm's overall revenue for the period, while crypto made up 17% according to CNBC.