The price of Dogecoin has found support at the $0.20 level and is now making a recovery with the crypto market.
Dogecoin is one of the market leaders
Dogecoin is moving higher this week with a 38% gain for one of the best-performing coins of the week.
The crypto market has shrugged off the warnings given to Binance by Japanese and UK regulators and is now seeing the potential to head for resistance with a market bounce.
Musk tweets about 'important change'
Crypto enthusiast Elon Musk has tweeted his support for a proposal to slash the transaction fees associated with Dogecoin.
The latest proposal would reduce the average fee of a Doge transaction by 100 times. Responding to a tweet about the fee change proposal, Musk tweeted: "Important to support".
The Tesla founder has been vocal in the past about the coin and said he had bought some for his son. His latest proposal was to call for developers to submit plans for updates to the coin.
Dogecoin Technical Analysis
The price of Dogecoin has found support at the $0.20 level and is moving higher again. Resistance for the coin will come in at the $0.3500 level with the 50-day moving average. Further resistance is ahead at the $0.45 level. The $0.20 level will provide the support again.
DOGE Daily Chart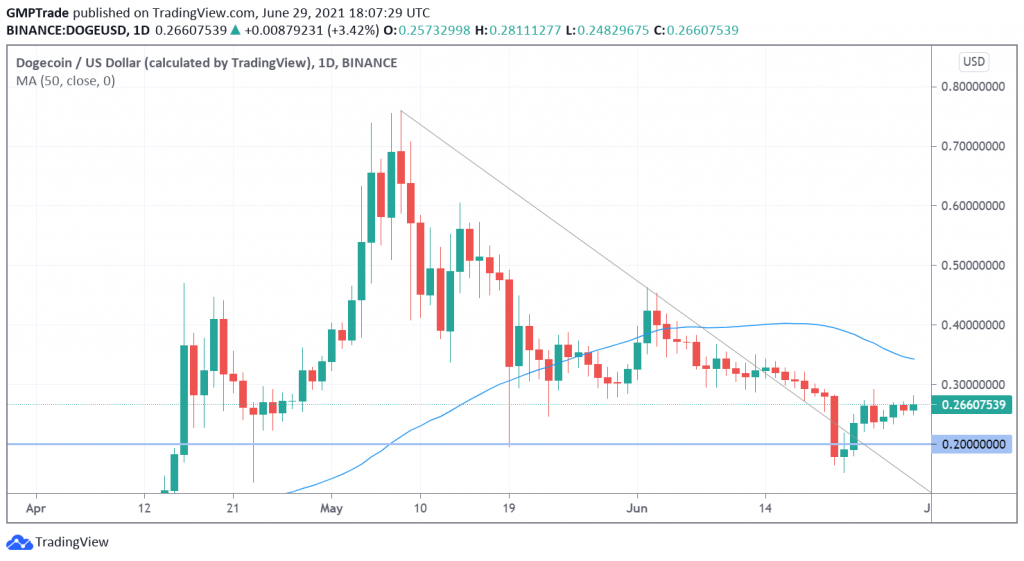 Doge sees travel payment option
German travel booking firm GetYourGuide has expanded into the US market with an announcement that it now accepts dogecoin for payment.
The Berlin-based firm has booked 45 million-plus tours in 170 countries to date and is offering bookings in major American destinations across the country. Dogecoin is now a payment option alongside cards, PayPal, and Google Pay. The Dallas Mavericks basketball previously said they would accept Doge for merchandise and tickets and further adoption like this would be a boost for Doge.