Ethereum is on the back foot this Friday as the crypto market slips again. An analyst at Guggenheim thinks Bitcoin could hit $15k.
BTC to $15k price level?
Scott Minerd, the CIO of the multi-billion dollar investment firm Guggenheim Partners, told CNBC that he thinks the price floor for Bitcoin is $15,000, or even $10,000.
In the interview, Minerd said investors shouldn't be "anxious to be putting money in bitcoin right now" and he thought that BTC could trade sideways for a longer period.
Minerd's predictions have been erratic in the past with the investor telling Bloomberg in December that his firm saw Bitcoin going to $400,000. Just weeks after that, he said that a drop from $40k to $20k was possible, but then in February, his target was $600k for the coin.
Ethereum has now slipped back under the $2,000 level after a test this week and it could fall further to support if there is no demand for the coin. Bitcoin was seeing large options expiries again on Friday and once they expire, the coin will have freedom to move.
ETH Price Prediction
The ETH price is back below $2,000 this week and this brings a risk of a drop once more. Support comes in at the $1,600 level, but there is also support below at $1,287. Ethereum is seeing prices far removed from the May highs at $4,250. ETH will look to set a low here and traders will need to wait for a buy signal that can get the coin back above the $2,000 level.
ETHUSD Daily Chart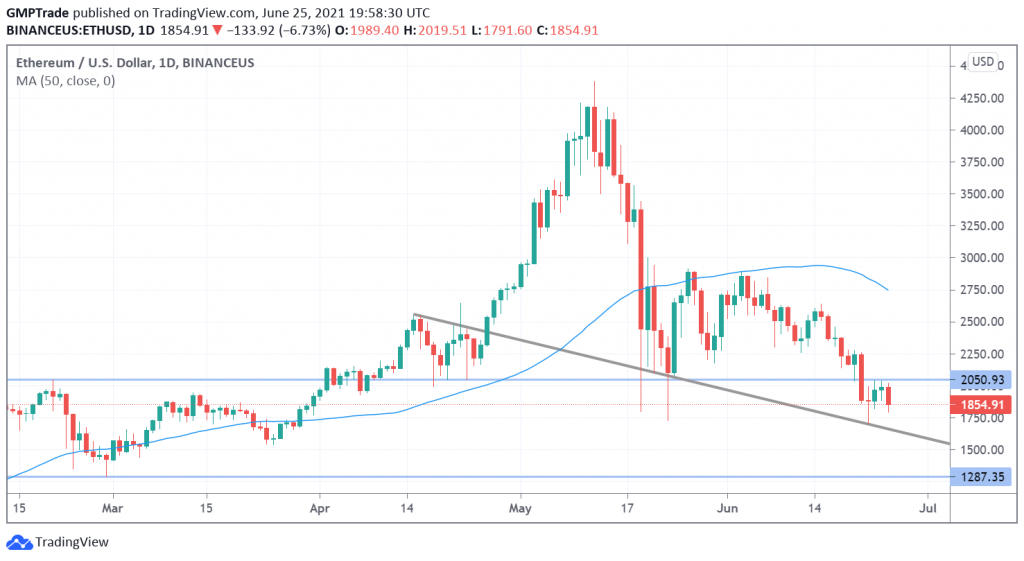 Indicator points to BTC inflows
An indicator that has marked major price bottoms in BTC is again hinting of capital flows into the coin. The stablecoin supply ratio oscillator created by analyst Willy Woo has risen from a 12-month low of -2.6 to -1.9 in the past four weeks.
The recovery in price indicates that capital has been moving out of stablecoins and back into bitcoin, which is a sign that investors are less defensive and see a potential bottom.