The Tesco share price is trading in a tight range and should see a breakout soon. Gains from the WM Morrison takeover approach have faded and the shares may test support.
Morrison takeover talk boosted grocers
WM Morrison shares jumped more than 20% after the company rejected an initial takeover bid from private equity firm Clayton, Dubilier & Rice, but there could be other bids. The rejected offer valued the company a 29% premium to their closing price before the bid. The US private equity firm could return with a better offer, or it could start a bidding war.
The bid highlighted further private equity interest in grocers and boosted their share prices in turn. Tesco shares saw an initial gain but that has since faded.
Will Amazon move for Morrison's?
Morrison's is a target because despite the company seeing strong digital sales, which were up by 113% in the last quarter, its online footprint is smaller than its rivals. There is speculation that Amazon could be the next bidder as they could tap extra growth potential. Morrisons already sells ranges via Prime and via the Amazon Fresh store in West London. Morrison's also owns much of its retail stores, which could be a prize for interested bidders.
The Tesco share price faded but the recent interest in grocers means that we cannot rule out a surprise in the future.
Tesco Share Price Technical Analysis
The Tesco share price is trading in a tight range between the 220p and the 232p levels. An attempt to get above resistance failed this week and the shares may try the lower end of the rectangle. A breakout below would likely see the share price at 205p support. Getting above the 232p level opens up a move towards 250p.
TSCO Daily Chart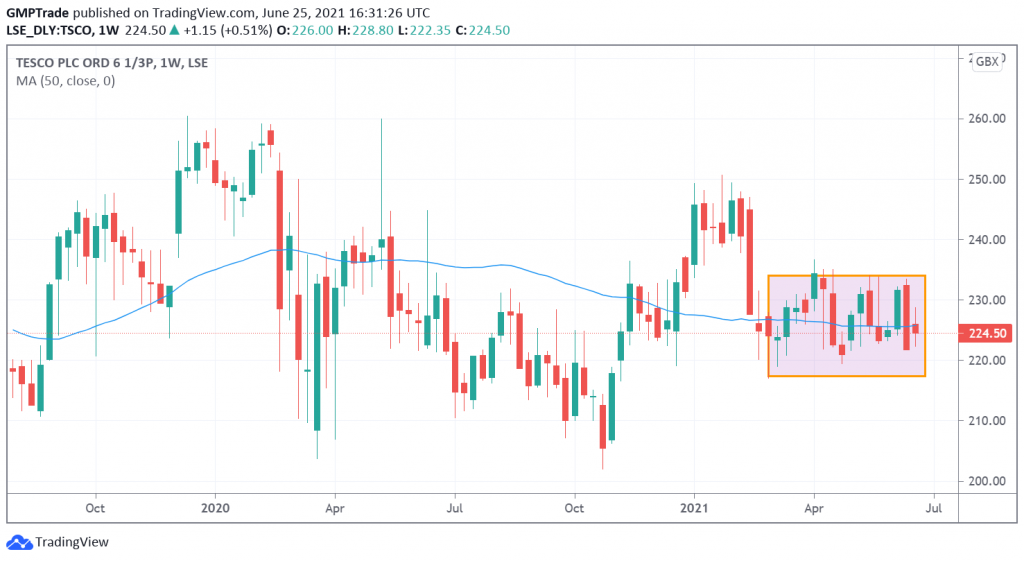 Earnings support Tesco share price
The recent Q1 trading update saw strong demand for online sales due to the recent lockdowns. Another boost for the company was a 68% improvement in the Booker arm, which benefited from the reopening of hospitality establishments with strong demand for catering needs. Tesco may see online sales dip as consumers go back to bricks and mortar stores, but much of the losses could come back in in-store sales.