Business Outlook Improves but Variant is a Risk
Carnival's business outlook improved with the company seeing a net loss of $2bn for the first quarter, the cruise operator ended the three month period with $11.5bn in cash.
Booking volumes for future cruises during the first quarter of 2021 were around 90% higher than volumes during the fourth quarter of 2020. The cruise operator has been on a recovery path with the vaccination programs across the world raising the prospects for a full recovery in the cruise sector. That is being pressured by the recent spread of coronavirus variants in the UK after Boris Johnson delayed the country's reopening by a month. Governments have been trigger happy about lockdowns and we can't rule further attempts after the summer.
Royal Caribbean Cases Weigh on Price
Carnival share price gains were hit by the news that two passengers on the first 'fully vaccinated' cruise from the US had tested positive for coronavirus during the Caribbean voyage.
Royal Caribbean said last week that two guests on its Celebrity Millennium ship had tested positive and it puts the recovery thesis at risk for Carnival and other cruise liners. The two guests were sharing a room and were placed in isolation.
Carnival Share Price Technical Analysis
Carnival shares have been on a grind higher since the March 2020 lows at 600p. The move towards a reopening of the economy and the uptake of vaccines has seen the prospects for the cruise industry improve. The price on the weejkly chart is seeing stubborn resistance at the 1850p level and this could signal a turn based on the rise of cases of the latest virus variant. First support for the share price comes in a 1600p with the 50 moving average coming into play around 1300p.
CCL Weekly Chart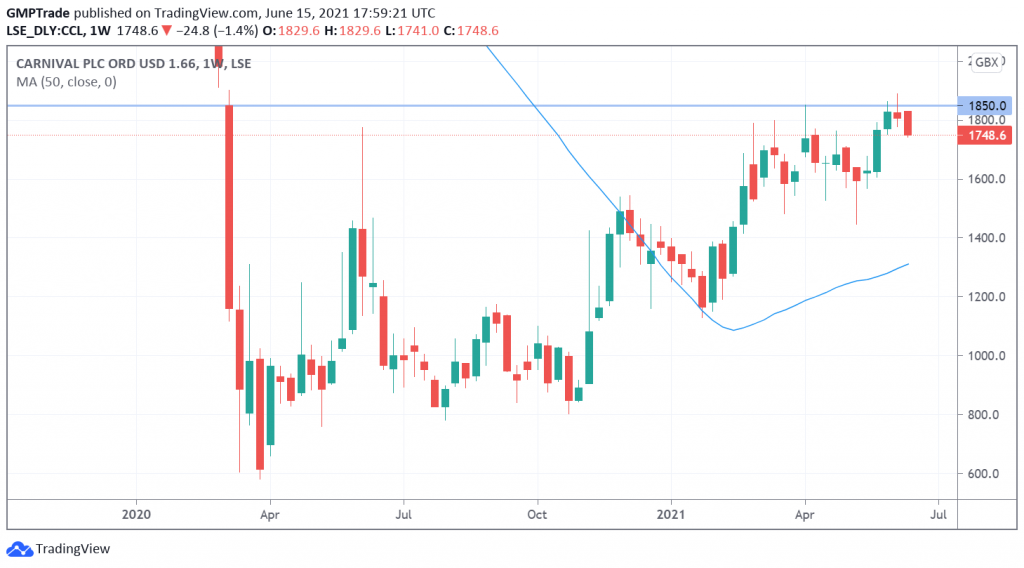 Cruise Operators Need Revenues
Cruise liners in the US started sailing this month after meeting the Centers for Disease Control and Prevention's (CDC) guidelines that included a fully vaccinated crew and requirements for vaccination proof against Covid-19.
Cruise operators were among the last to return to their pre-pandemic levels of operation after the CDC laid out strict guidance earlier this year. Ocean voyages were halted in March last year as the pandemic hit the cruise industry, with hubs like Florida losing an estimated $5.6 billion.