The Carnival share price hit resistance two weeks ago and has now started the decline. The company has announced a further share sale, while countries grapple with rising virus cases again.
Carnival announces another share sale
Carnival Corporation has announced that the company has filed a prospectus supplement with the United States Securities and Exchange Commission, where it may offer and sell shares of its common stock  through its agent, Bank of America. The aggregate offering price of the sale is up to $500 million at varying times through an "at-the-market" equity offering program.
Carnival intends to use the proceeds from the Offering to purchase ordinary shares of Carnival plc. The company said it may use the remaining net proceeds, if any, for general corporate purposes. The cruise line operator plans to sell the shares only when the ordinary shares of Carnival plc are trading in the United Kingdom market at a discount to shares of common stock of Carnival Corporation.
The maximum number of shares under the Share Purchase Program is 18.3M. The latest sale is a good move from the company as it takes advantage of higher prices, but shareholders suffer again.
Losses and virus cases mount
Carnival in the US reported a $3.1bn operating loss on revenue of $75m for the six-month period into May, reflecting losses across all segments. Monthly cash burn is running below expectations at $500m, but this is also due to ship sales and working capital changes.
The group is now operating at 35% of capacity and that is expected to rise to 50% by the end of the fourth quarter and 100% by spring 2022. That outlook is clouded, however, by rising virus cases in the UK and in Europe. Australia has also reported lockdowns over the variant and that will delay any cruises to the Australian market.
Carnival Technical Analysis
I wrote recently that Carnival shares risked a top in the price and that is now playing out. The ascending triangle formation has been broken to the downside and the next target is the 50 moving average near the 1400p level and there is further support at the 1200p level. Carnival shares need to get above the 1850p level for further gains.
CCL Weekly Chart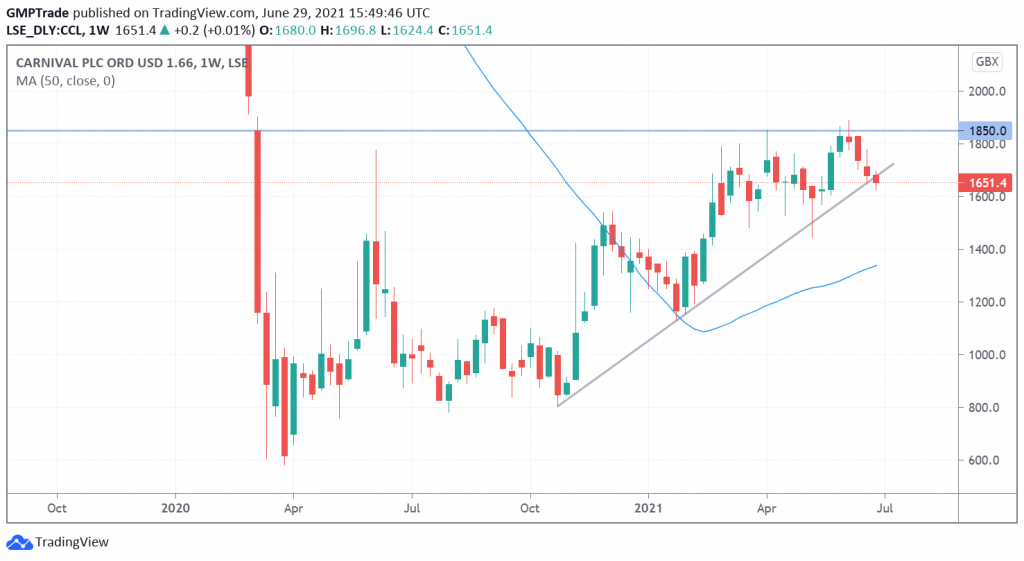 Big capital raising hurts the share price
Since March 2020 the group has raised more than $24bn to keep its business afloat and that is keeping a lid on the share price. The company has taken on new loans, sold off some of its less-efficient ships, and also issued new shares in February and June. These efforts will be enough to get the company through the year, but it has diluted shareholders and increased the debt load. The recent debt load for Carnival was over $21bn, compared to $11bn in 2019.