Lloyds share price was boosted by a dovish Bank of England interest rate plan but the stock is still consolidating.
BoE warns of inflation but still dovish
Banking stocks were supported this week as the BoE talked of higher inflation but also strong growth. The BoE expects inflation to top 3% due to the economic recovery. The bank's analysts also see UK growth surging by 5.5% in the second quarter
The bank warned that resulting near-term pressure on prices from higher demand and energy costs could "prove somewhat larger than expected". The warning came after the recent move above 2.1% in inflation which was higher than the bank's 2% target for the first time in two years.
Is inflation still transitory?
The Monetary Policy Committee still held rates at 0.1% and kept its quantitative easing programme at £895billion. Traders were looking for more after the US Federal Reserve had indicated a faster pace for rate rises. The BoE are simply trying to deflect attention as they still insist that inflation is transitory but some analysts do not believe this.
For Lloyds banking group, this matters because inflation could see rates rise faster than expected, while stimulus measures are reduced. That could rattle the current positive sentiment and business plan.
Lloyds Share Price Analysis
The price of LLOY is now consolidating in a triangle on the daily chart and is also being held up by the 50-day moving average. The next breakout will depend on the 46p – 48p levels. The 48.11p level was an important low in late-2019 and that provides resistance for further gains. If prices weaken then the 44p or 42p levels would be the target.
LLOY Daily Chart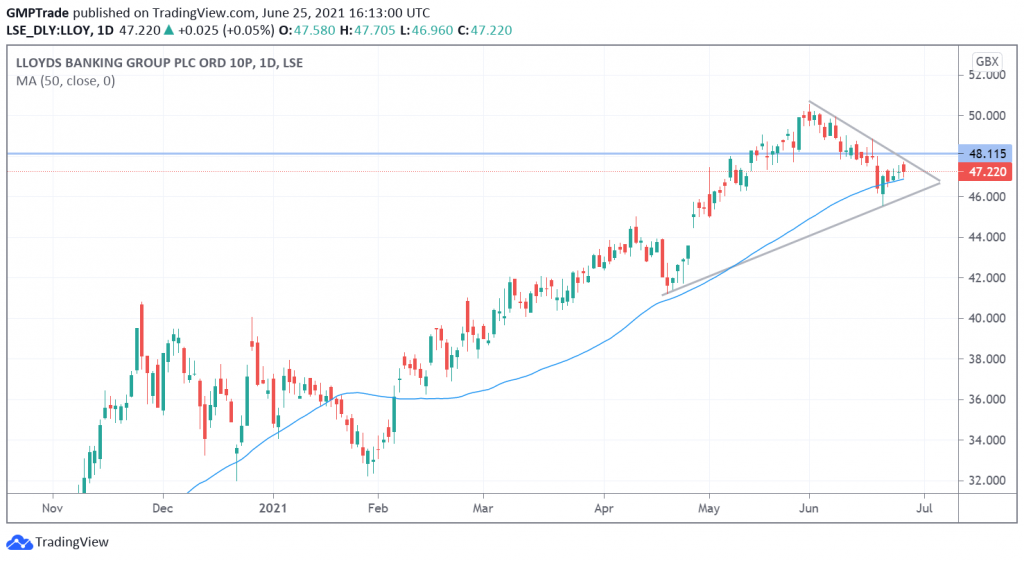 Half year dividend boost in H2?
Investors will be looking for news on the Lloyds dividend after the bank was forced to suspend it during the pandemic. The company releases its half-year results in July so that could be an opportune time to make an announcement on the income payment. A rise in the bank's dividend could boost the Lloyds share price.